Martha & Bert: Classic Macon Style
May 24, 2012 |
Bert and Martha had such a beautiful and classic wedding.  From the elegant church ceremony at Vineville Methodist to the posh country club reception at Idle Hour, this couple made traditional look fresh and chic.  Bert and Martha are both true Maconites born and raised, and they both love this city!  It was so fun  documenting such a special day of joining these two families!  It was truly a wonderful celebration!  Here is a look at their day!
The rings!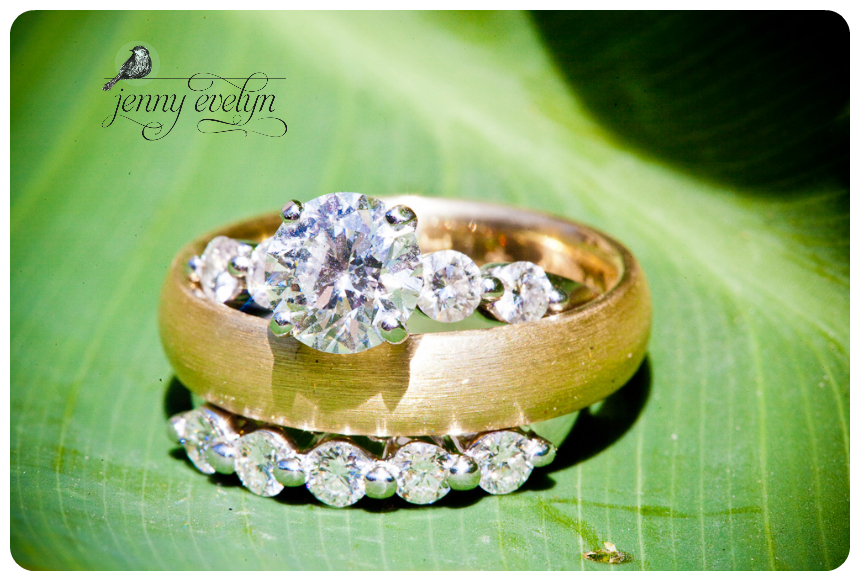 Every traditional bride must have "something old, something new, something borrowed and something blue" and a sixpence in her shoe for luck.  Martha's "something blue" was this lovely sapphire ring that she got for high school graduation.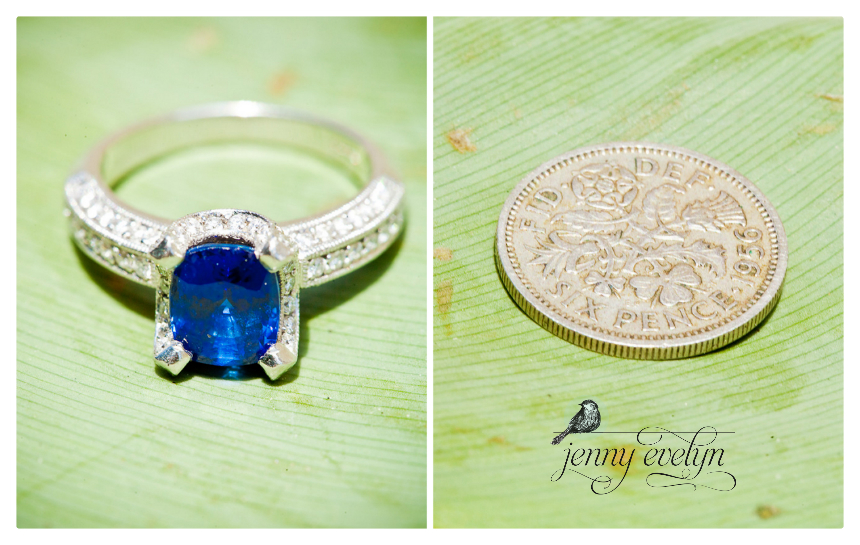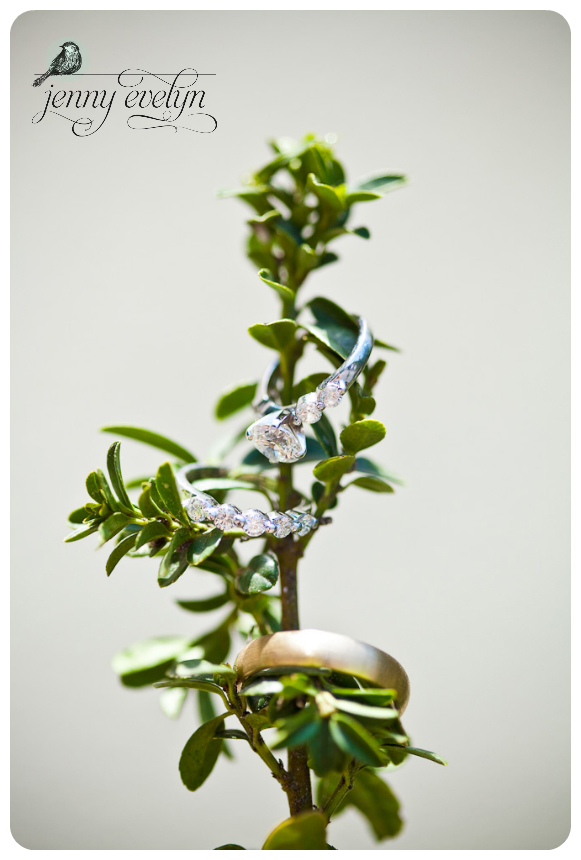 I love when the bride has her hubby's ring engraved…esp since they cannot forget their anniversary when it's written inside their ring!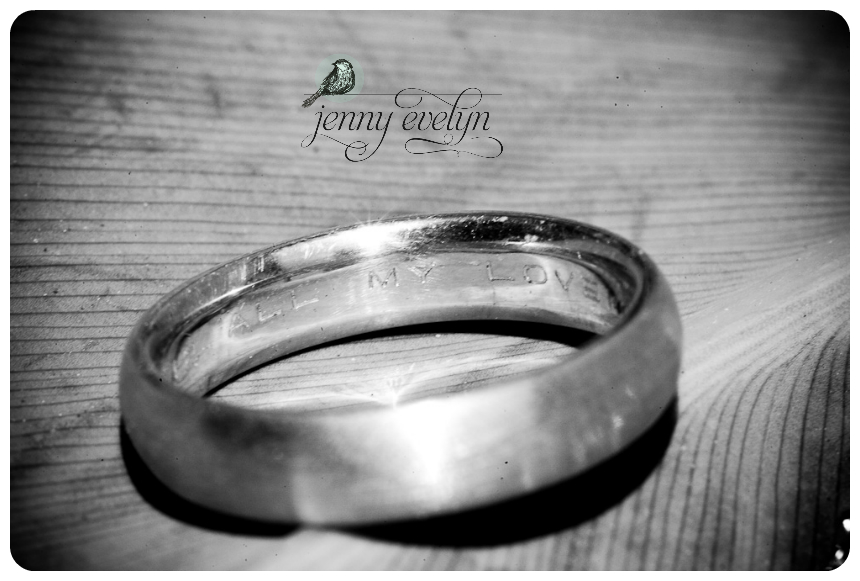 Martha is such a good hostess!  She and Bert had a sweet gift basket for out of town guests with snacks, a guide to Macon and the schedule for the weekend by Macon Letter Service. I loved the yummy "Bert and Martha" m&m's.  M is for Maxwell!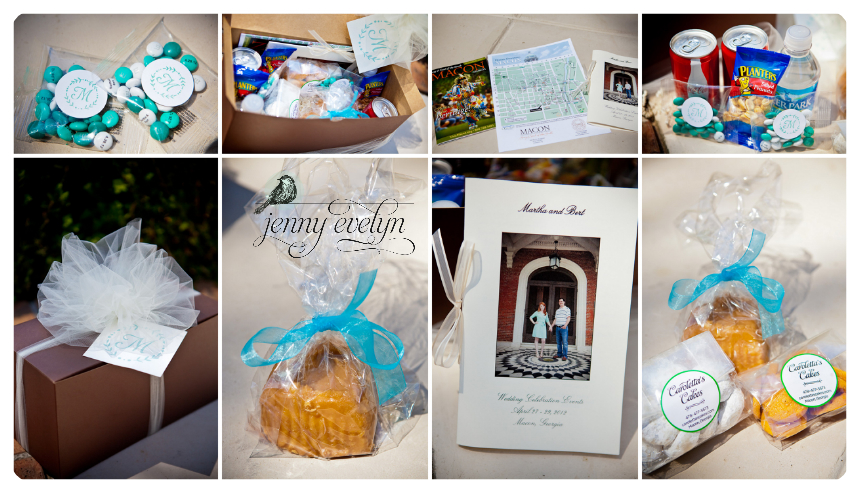 I loved her classic engraved invitation and programs with the McKay coat of arms by Southern Engraving in Birmingham.  So elegant!

The beautiful coat of arms was a perfect traditional touch!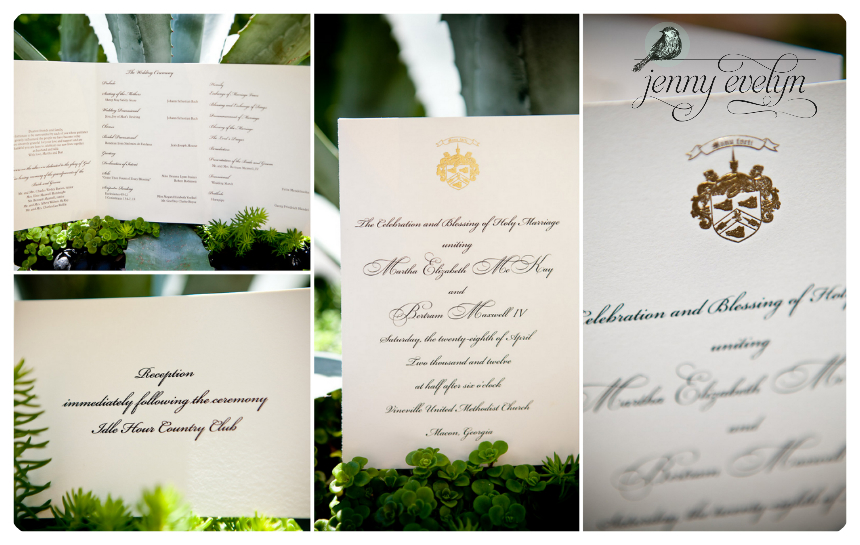 Martha is a true red head and loves her sweet puppy so we had to get a shot with her on the wedding day.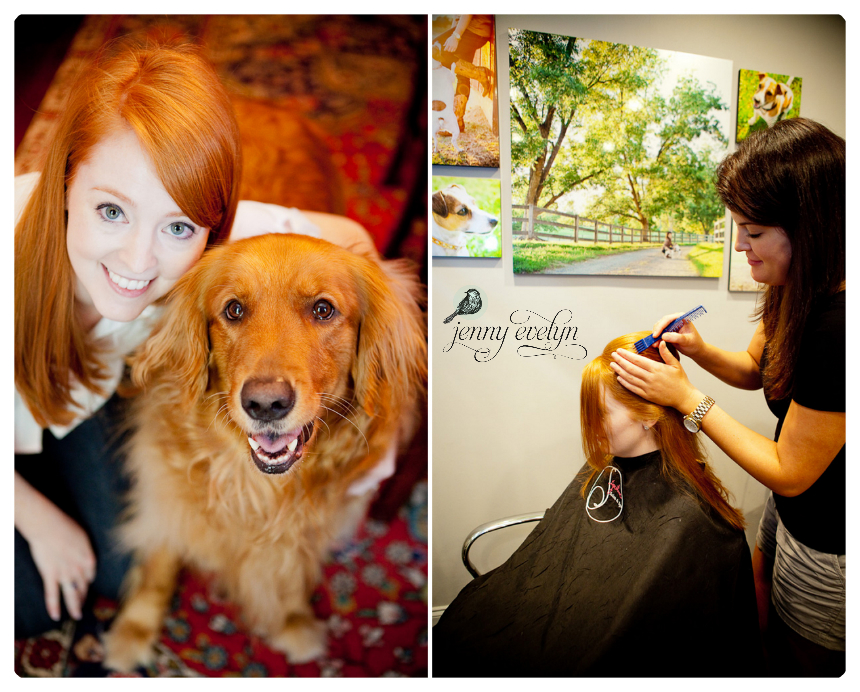 Martha getting a Signature 'do!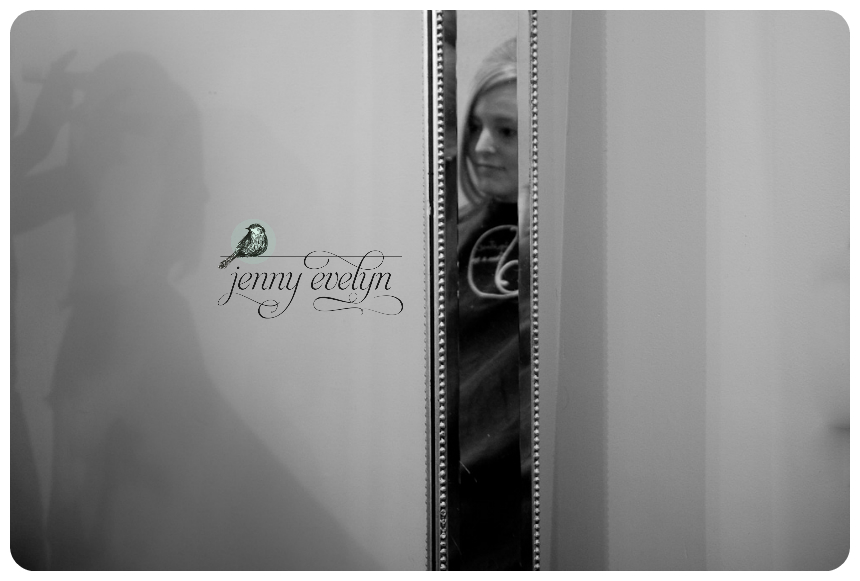 Martha's gorgeous gown by Monique Lhuillier.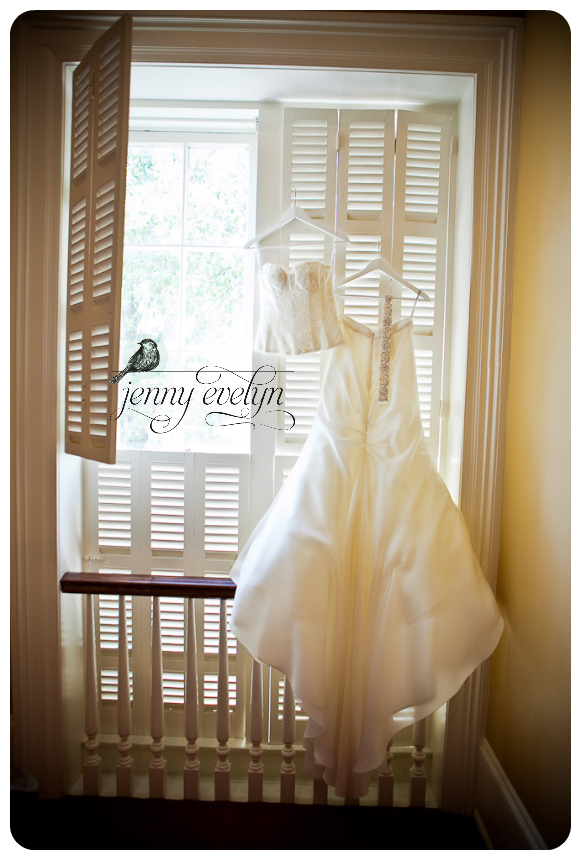 Martha had such elegant accessories.  Love those silver snake skin Jimmy Choos and that sparkling belt.  Gorgeous!  Martha's "something old" was a garter that has been passed down through Bert's family.  Her "something new" was her gorgeous gown, Vera Wang veil and Jimmy Choo shoes.  And she borrowed the earrings from her mom.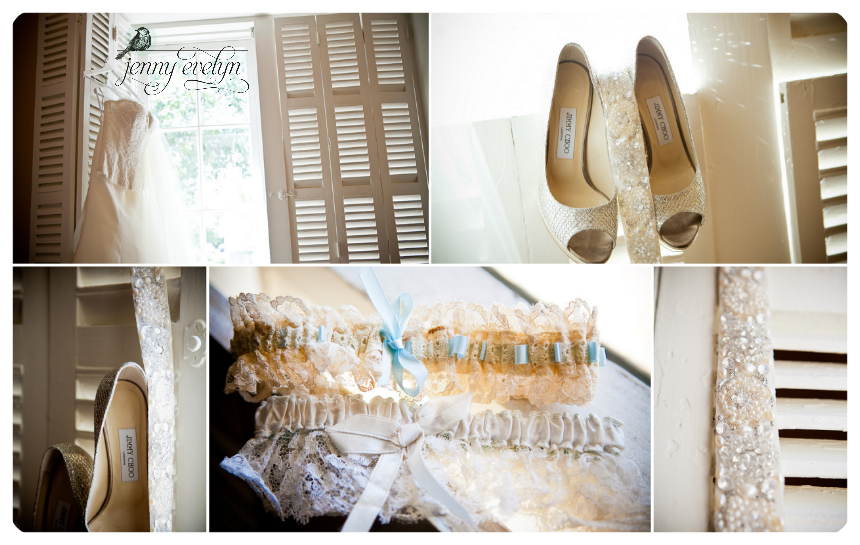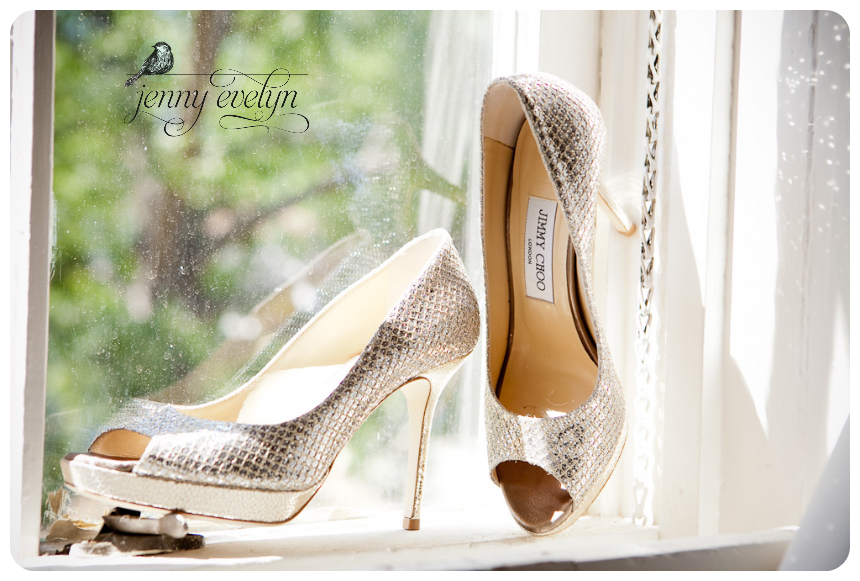 Getting a little help from her MOH and mama getting in the dress and then wowing her gals!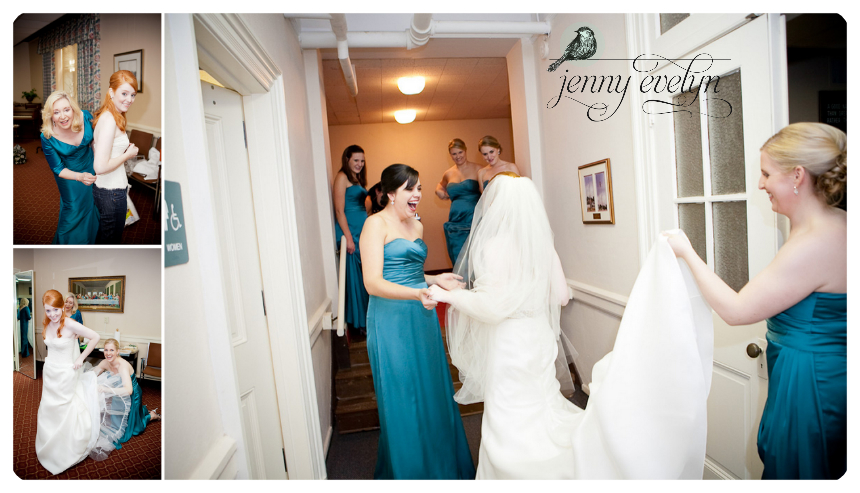 The beautiful bride!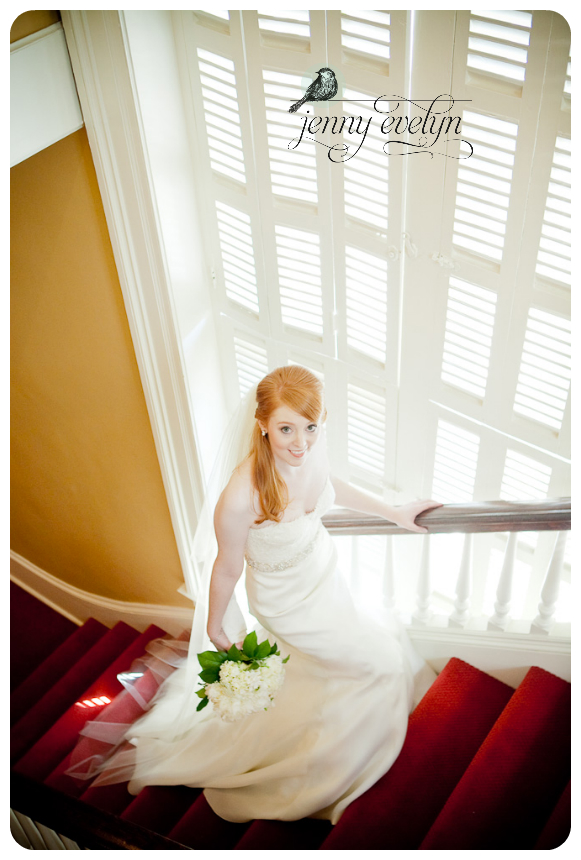 Stunning Martha!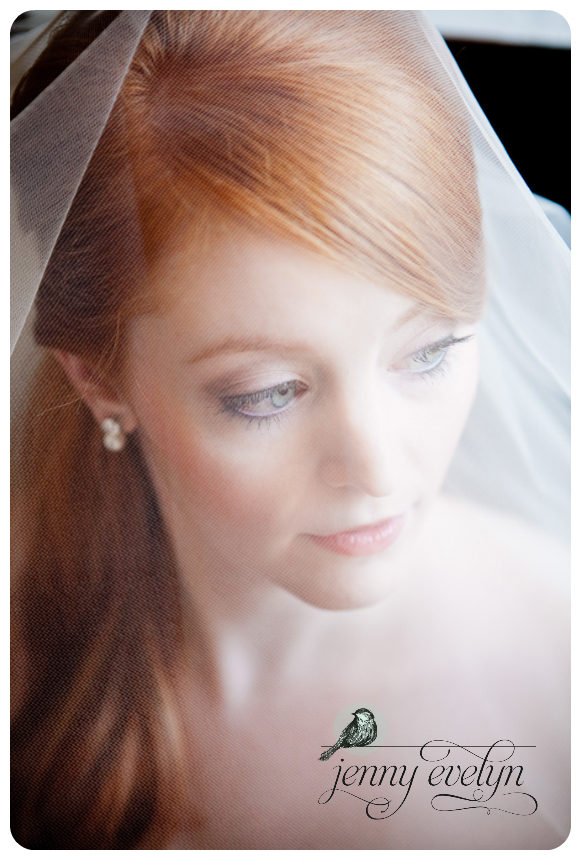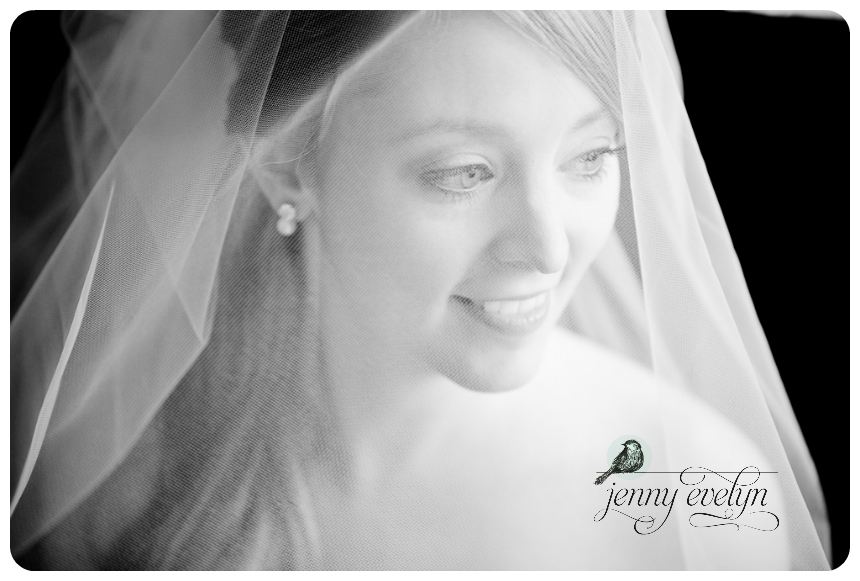 In the beautiful sunshine!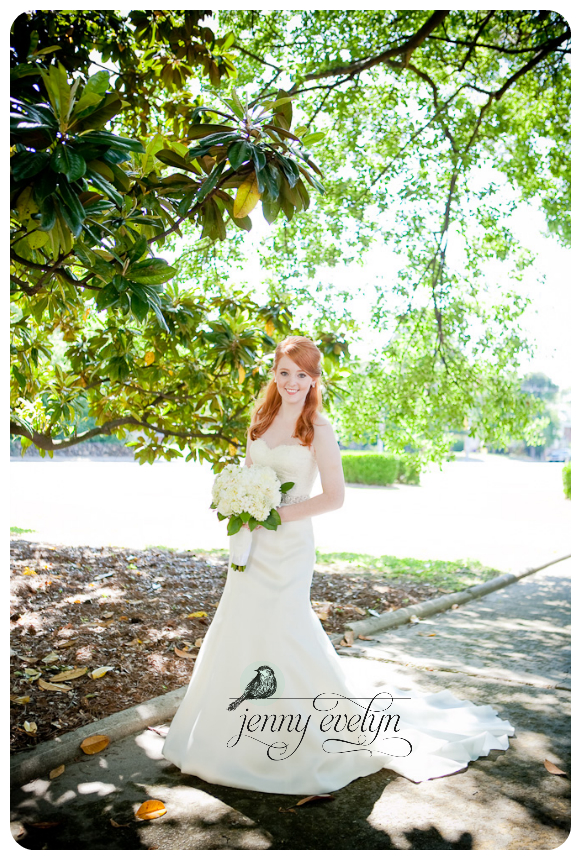 The ladies!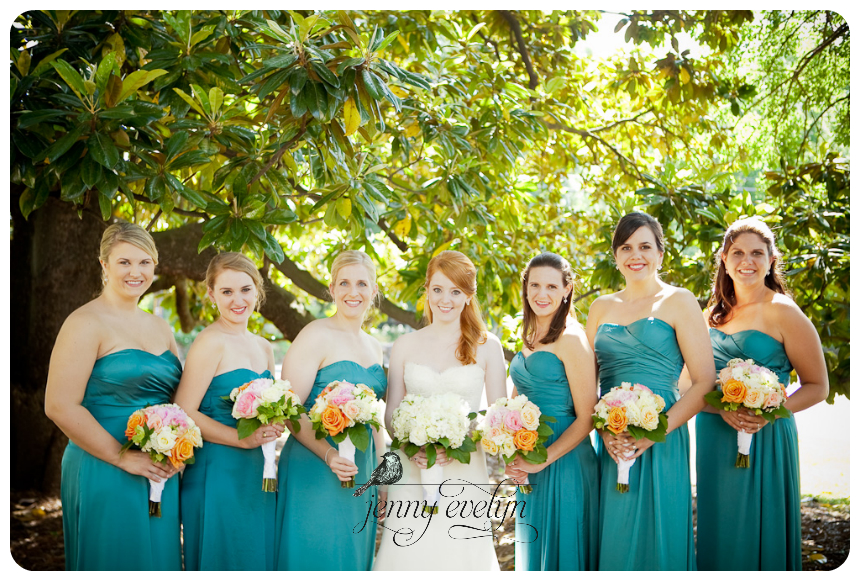 Jan Beeland did a beautiful job with Martha's fluffy white bouquet and the bridesmaids' colorful springtime bouquets.  I love the monogrammed hankies!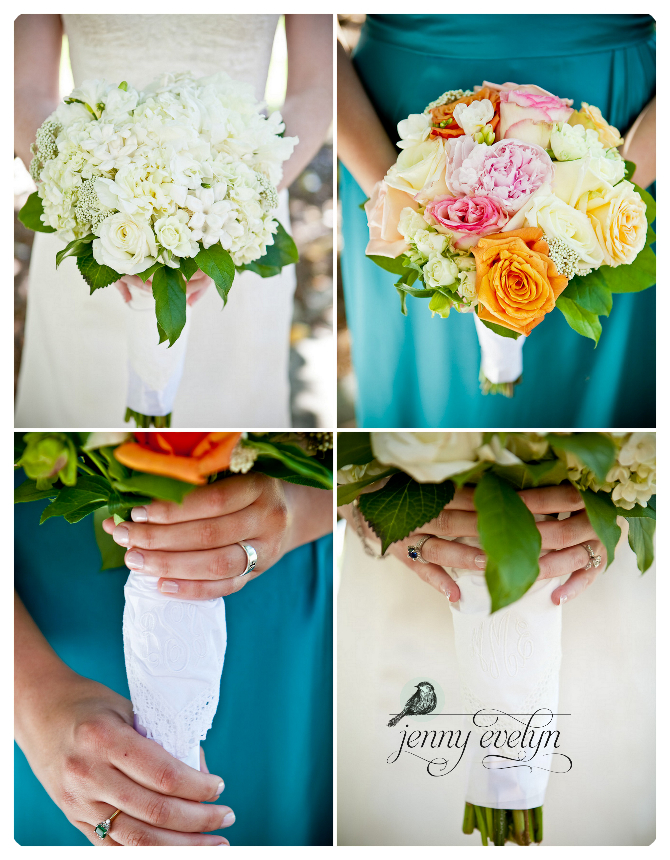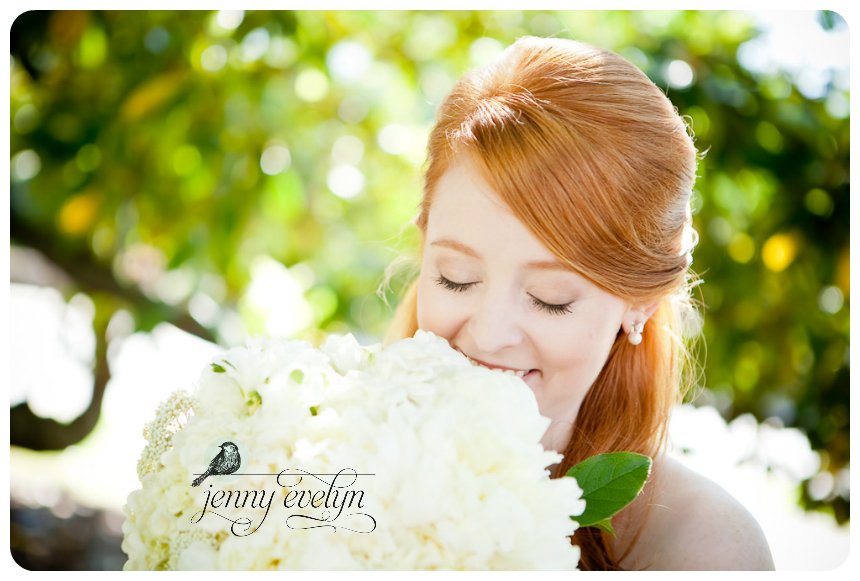 Martha, what beautiful green eyes you have!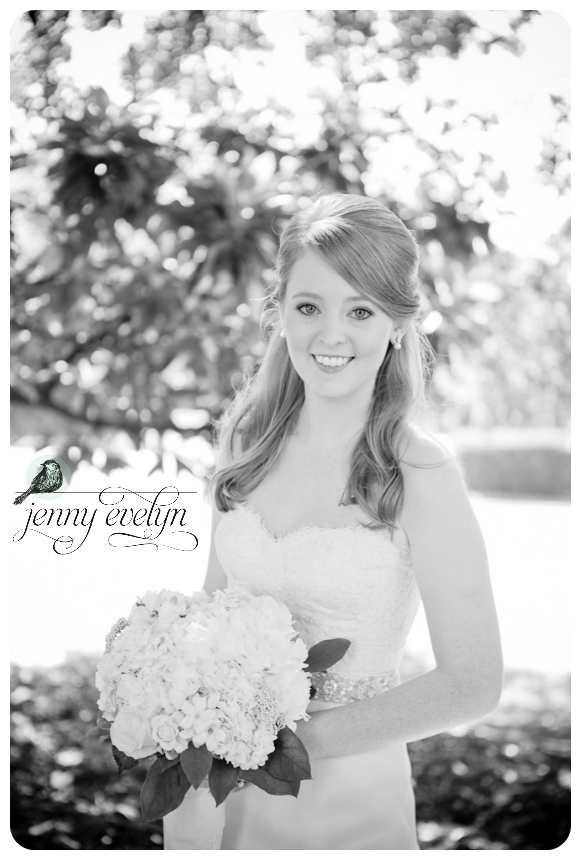 Love this shot!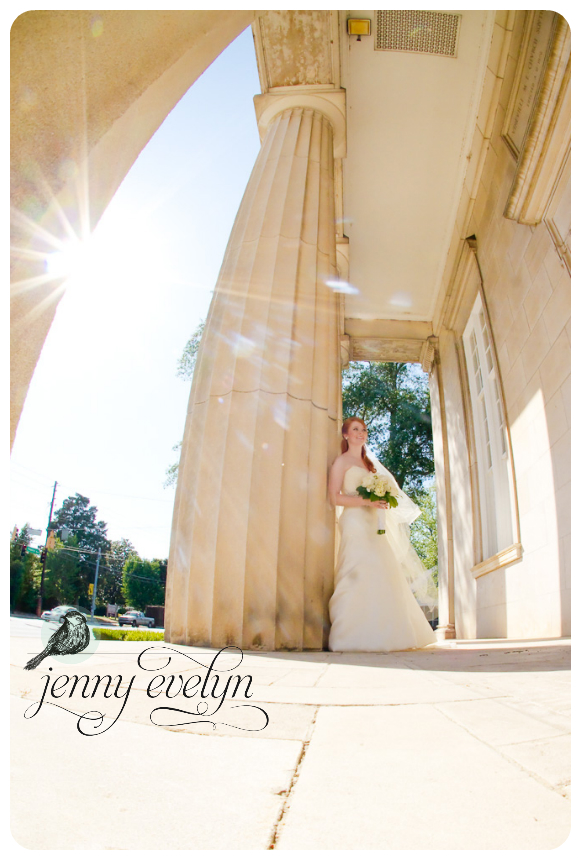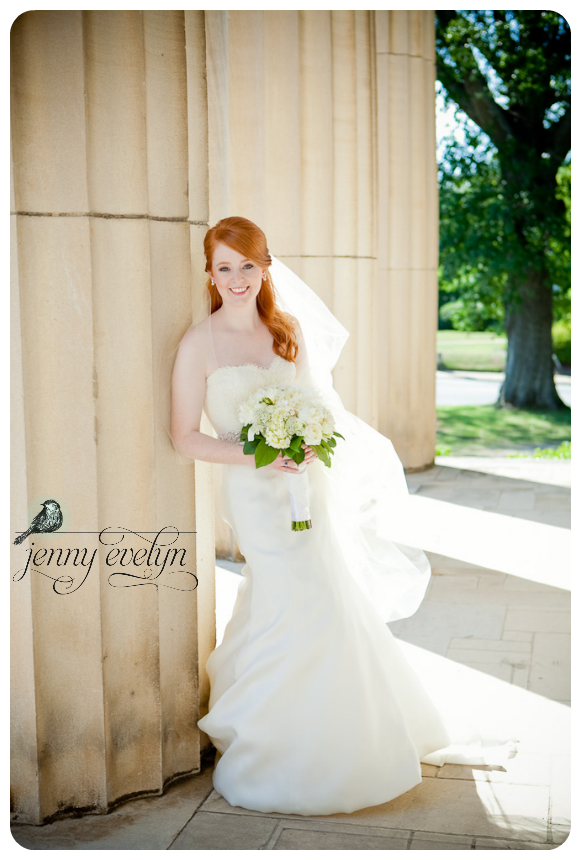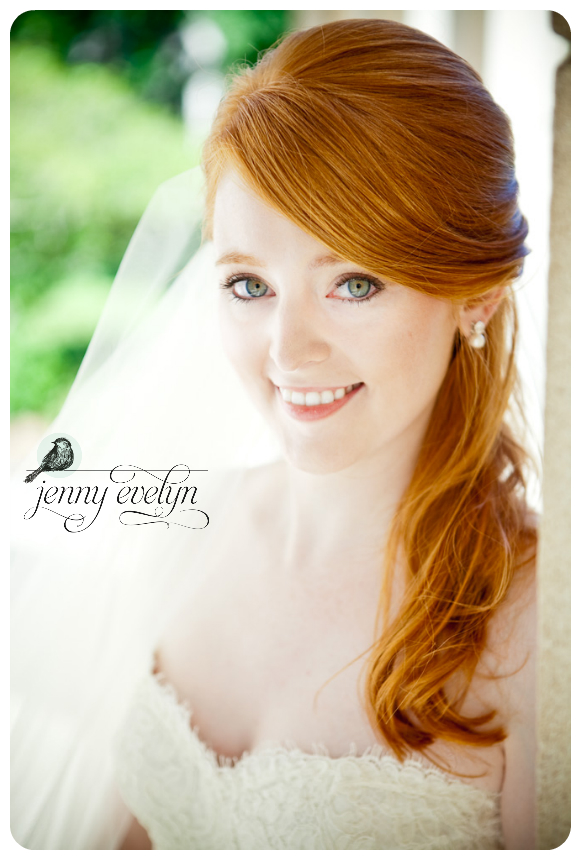 She looks so beautiful under the veil in this light!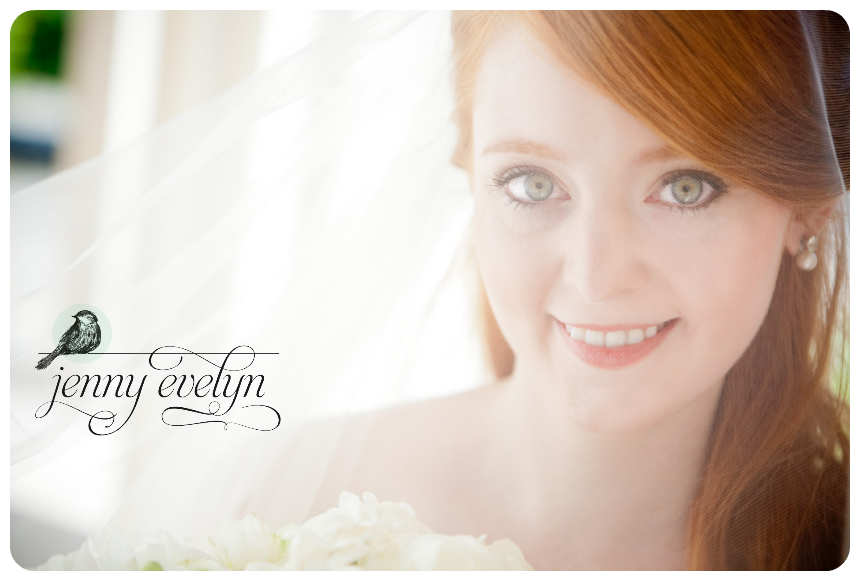 I love a classic white bouquet!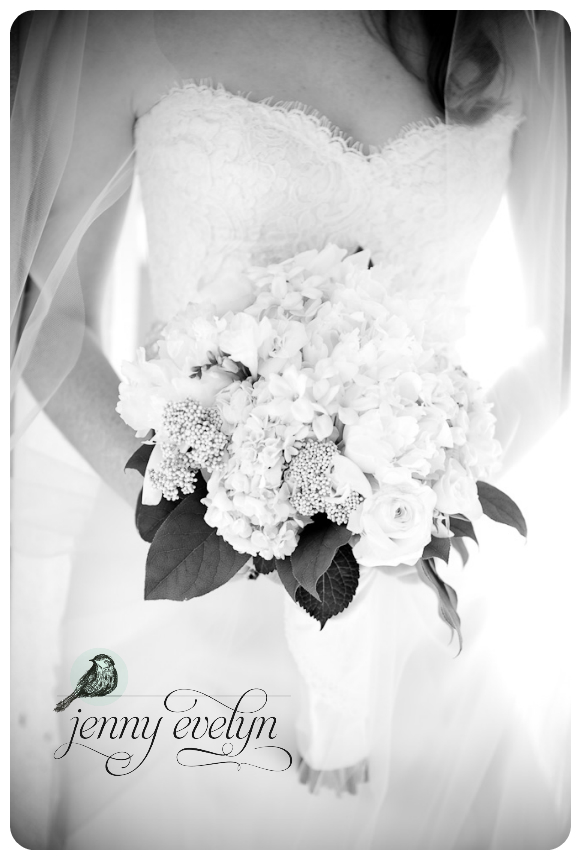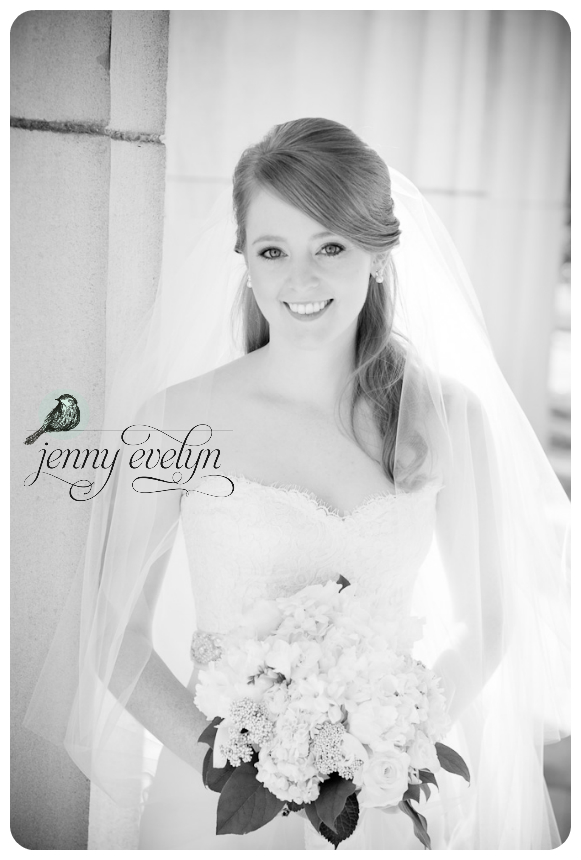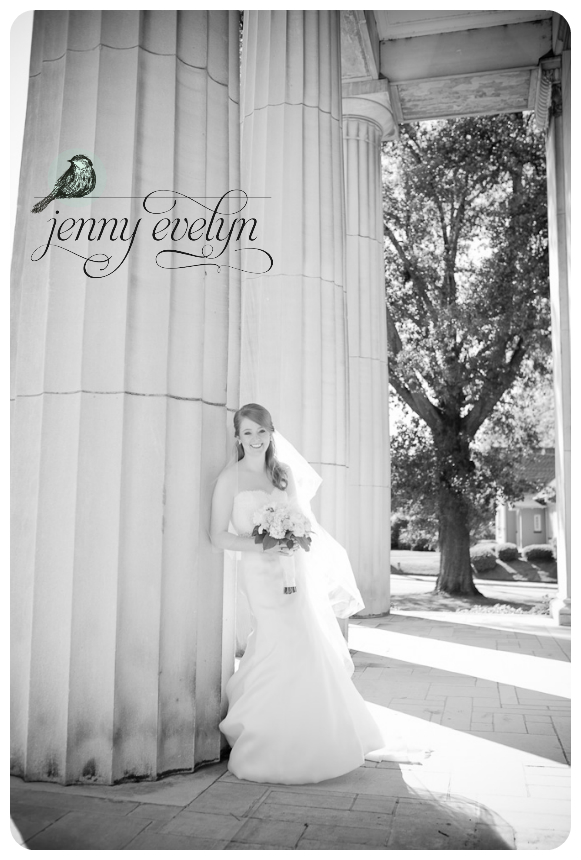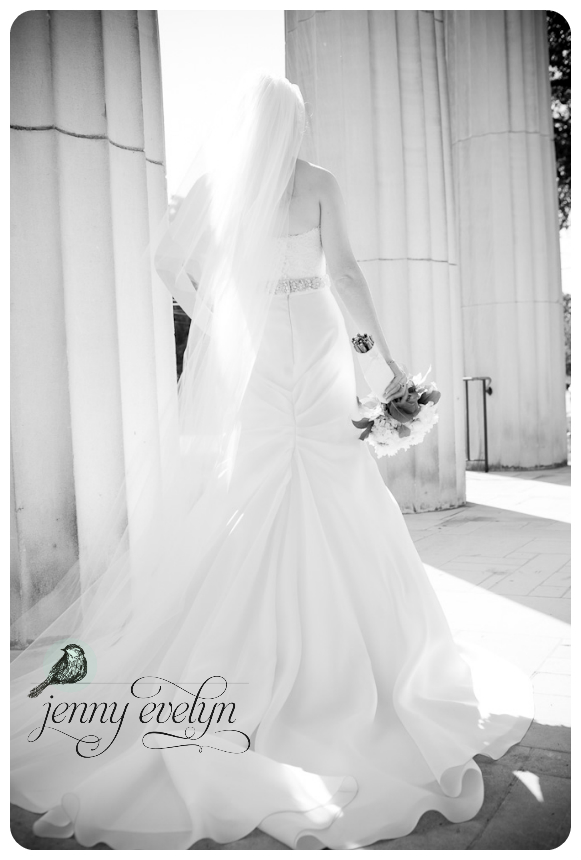 It was soo windy that we were all a little worried that Martha's veil would blow away.  But we did get this gorgeous shot!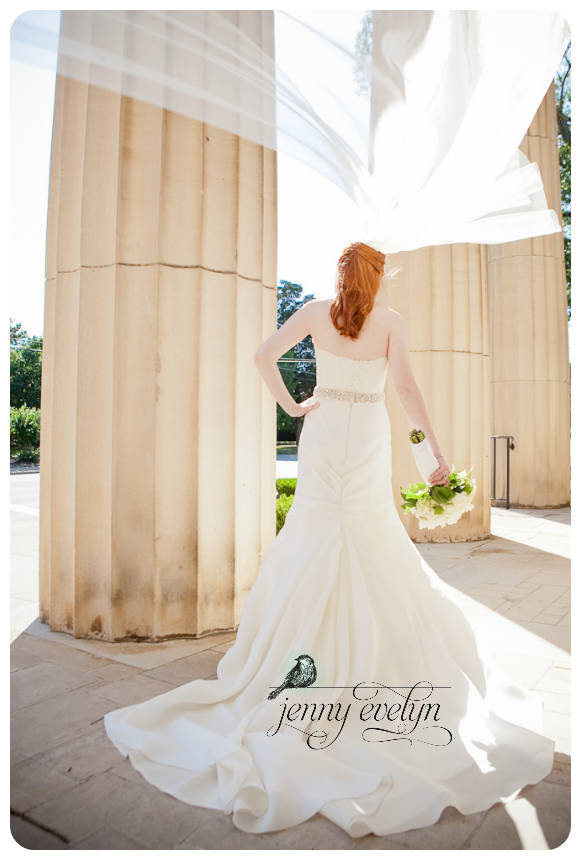 I had to post one of this sassy red head!  Soooo cute!

The handsome groom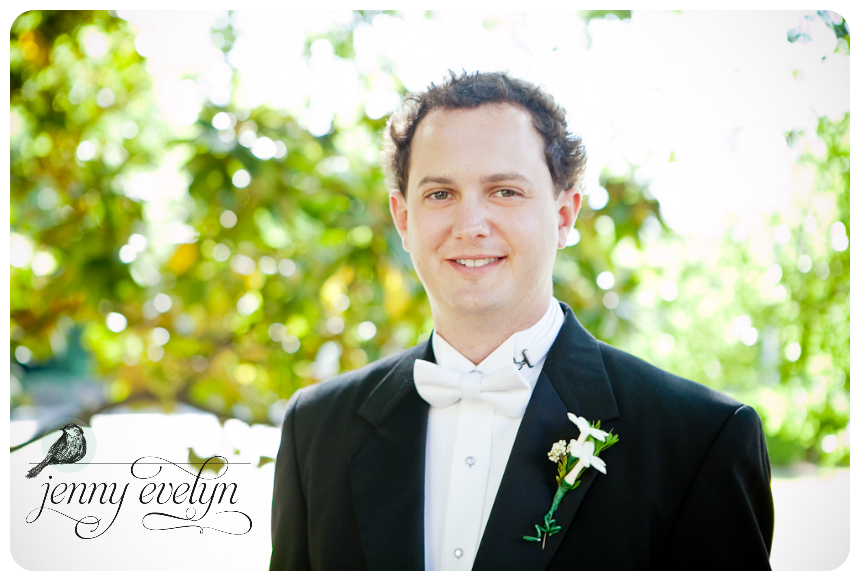 Bert and all his groomsmen.  Love the tux and tails, guys!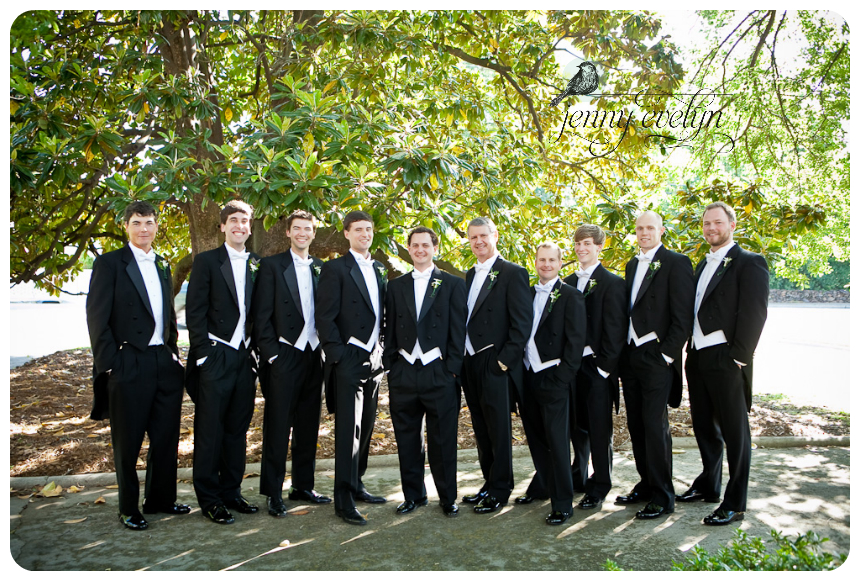 Bert hamming it up!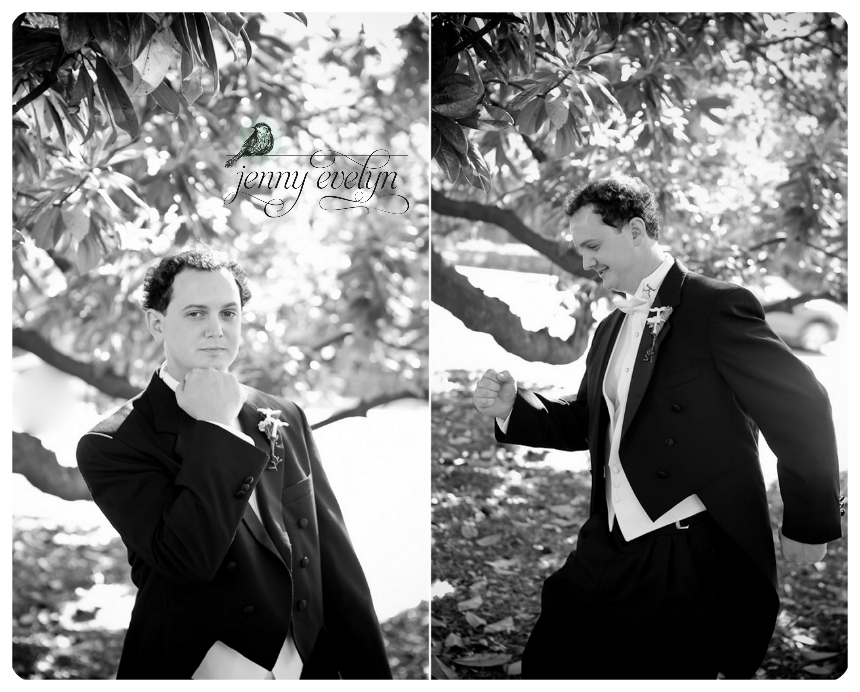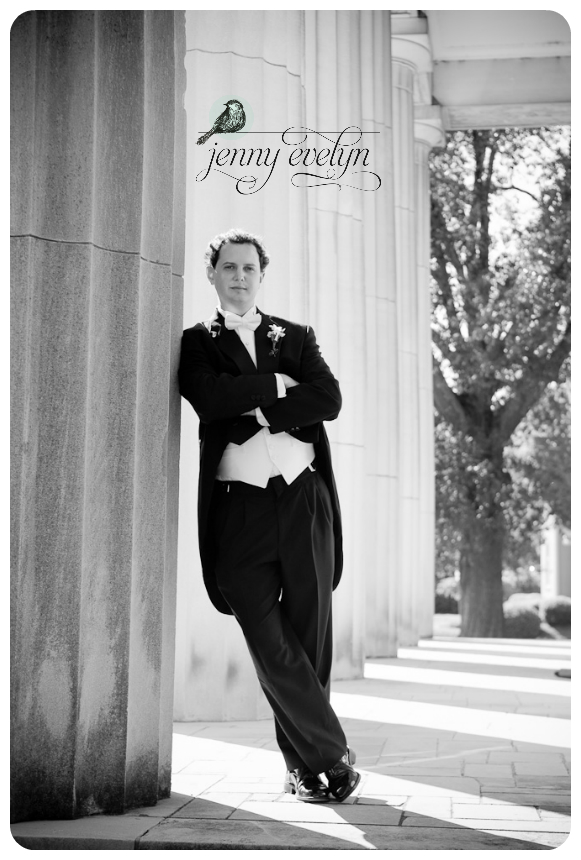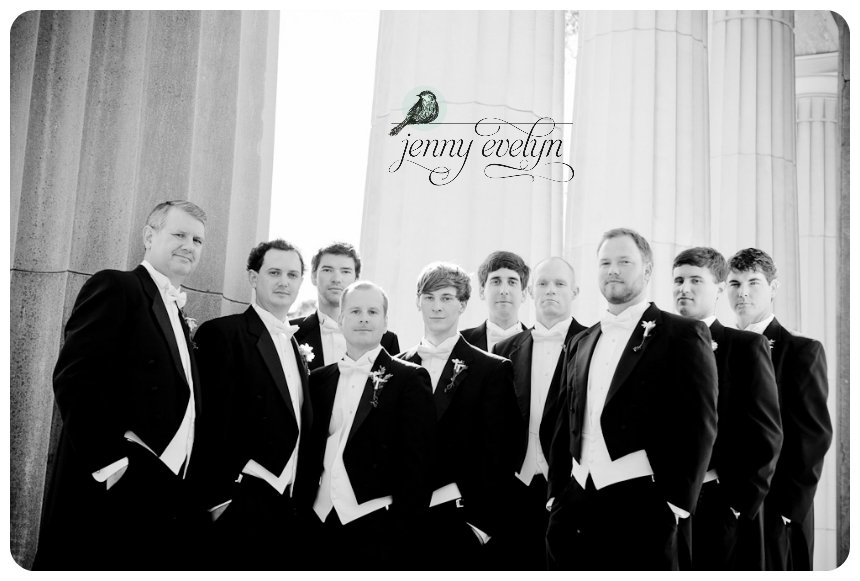 Very Dapper!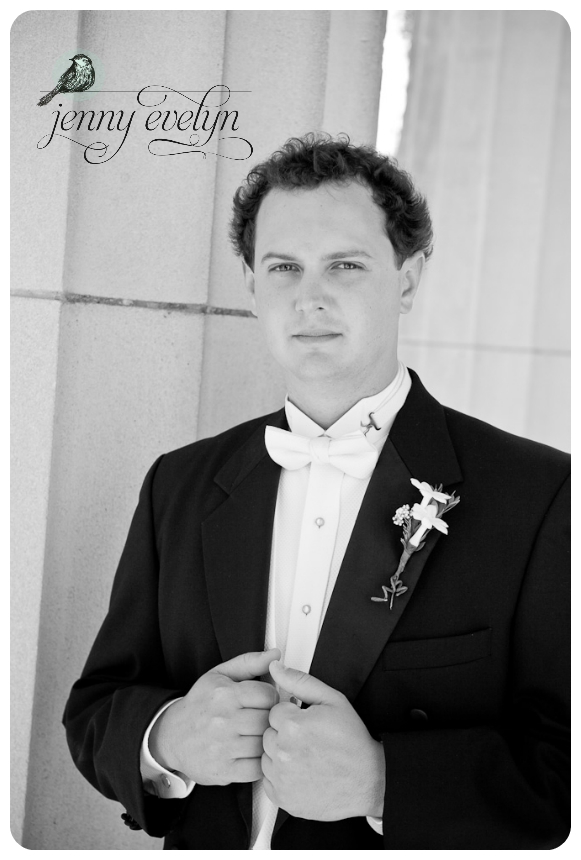 This fresh green wreath was a beautiful and classic touch for this spring wedding.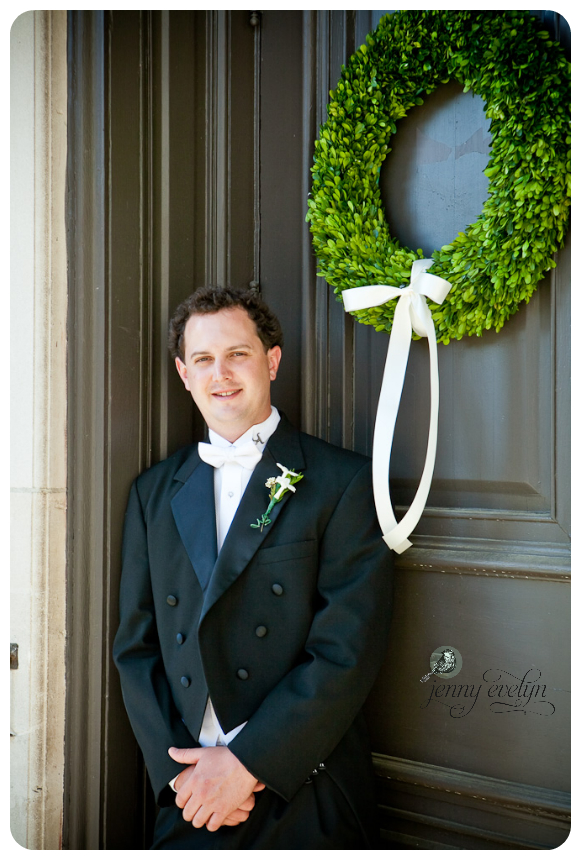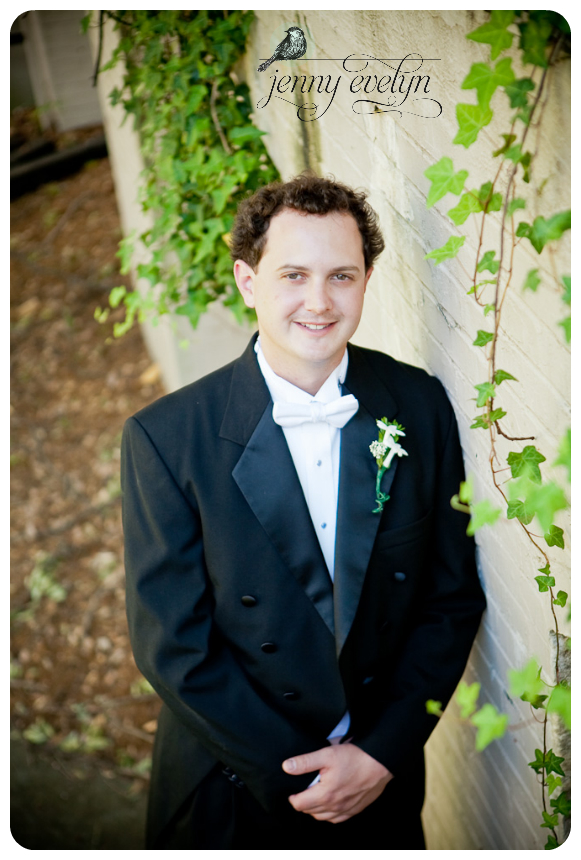 Jan Beeland did such a lovely job with the flowers in the church.  The combination of fresh white and green flowers and candlelight was classic and romantic!  She also directed the ceremony!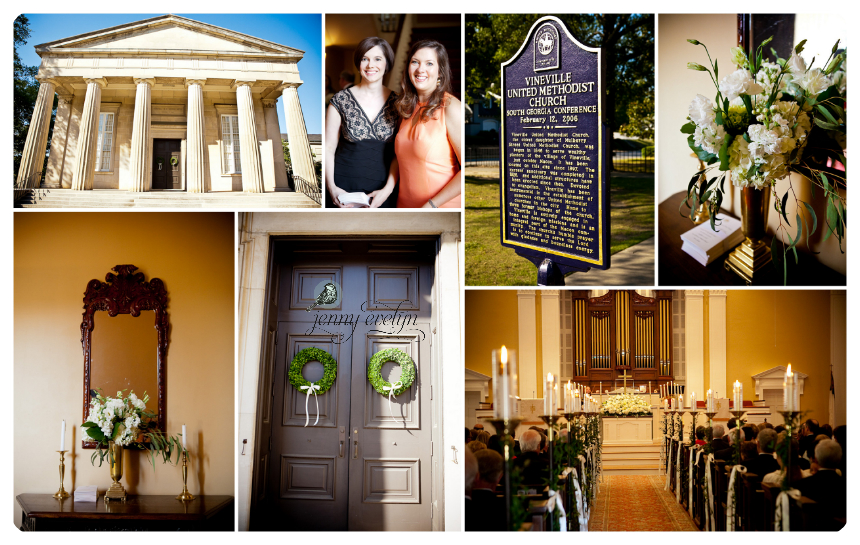 Sweet little prayer to calm the nerves before heading down the aisle!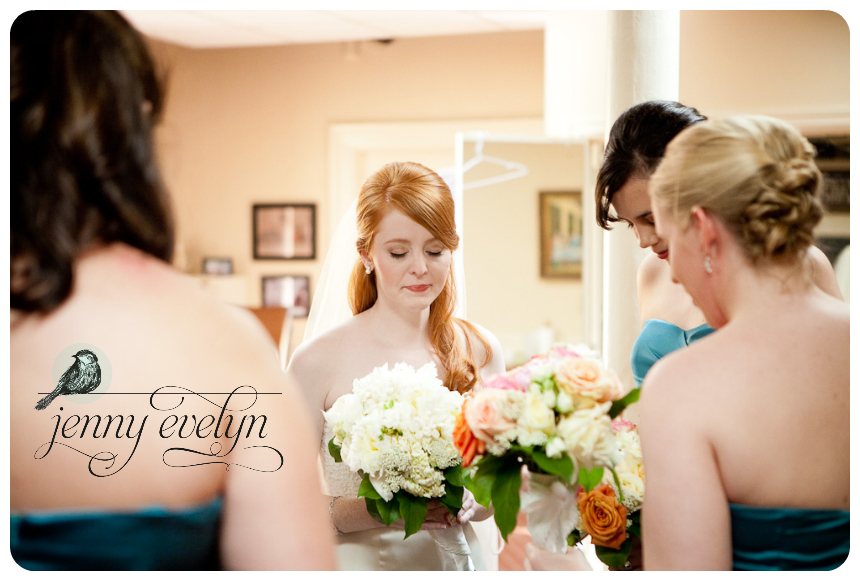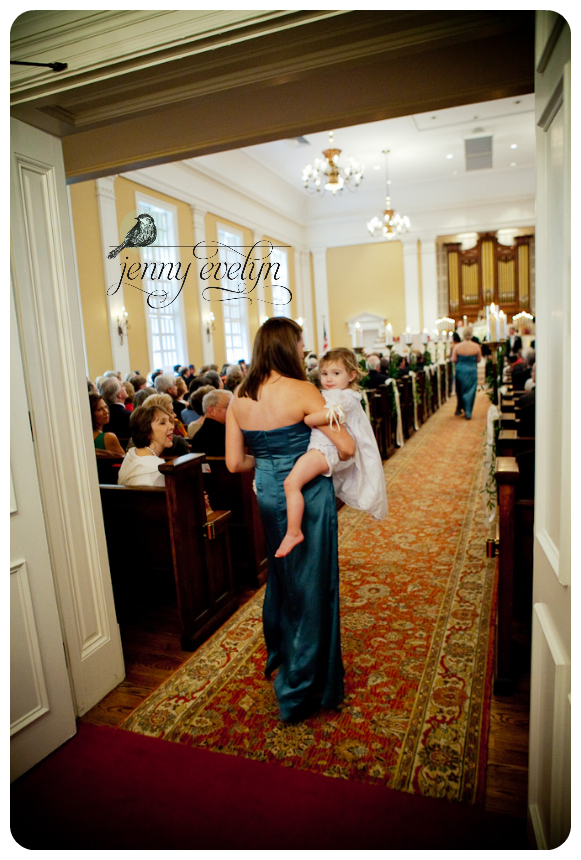 Martha's daddy, getting ready to walk her down the aisle.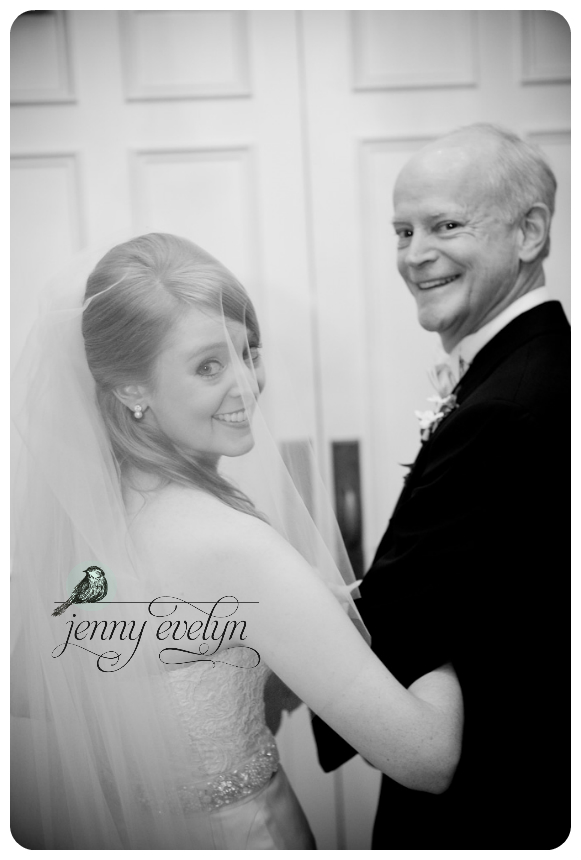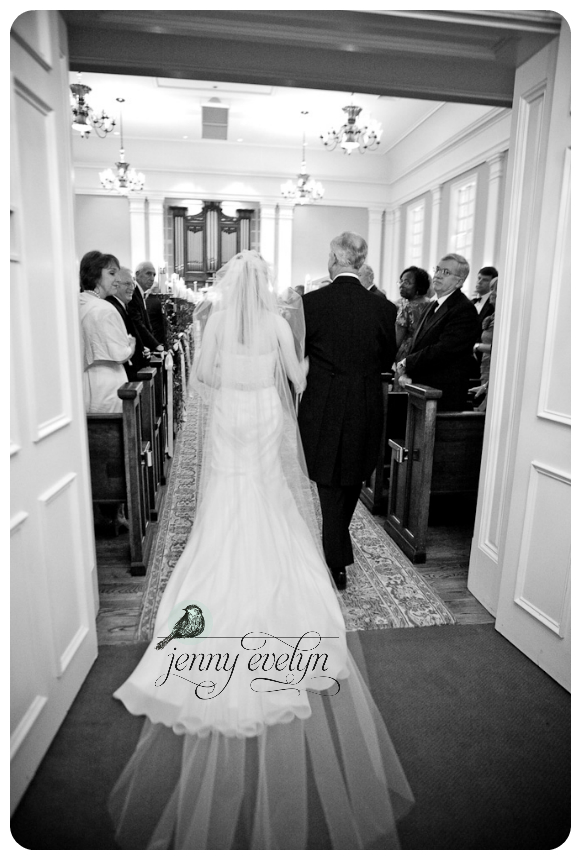 Bert is excited to meet his bride at the altar!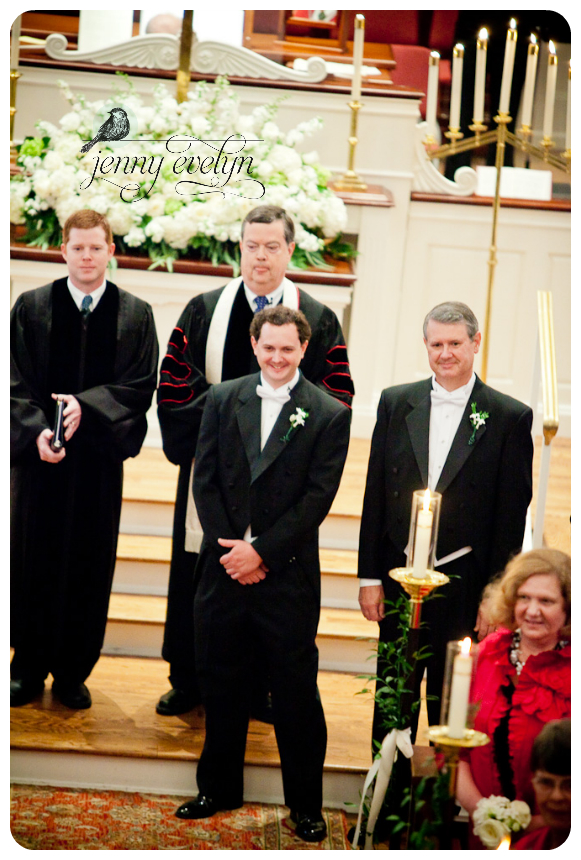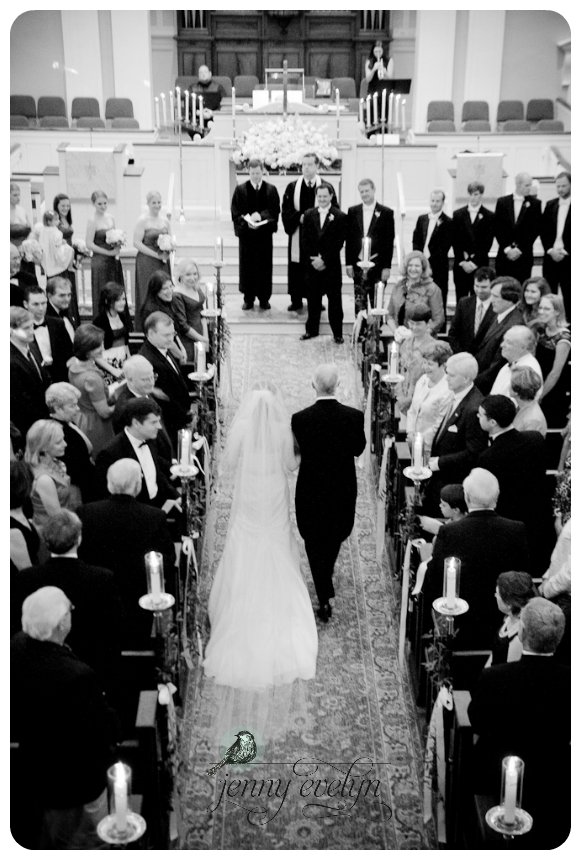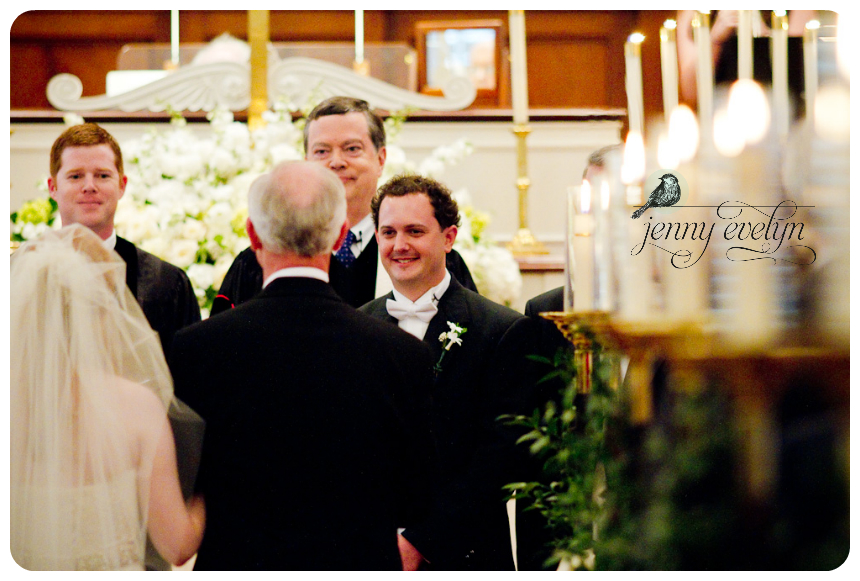 I love the moment when the daddy gives his little daughter away!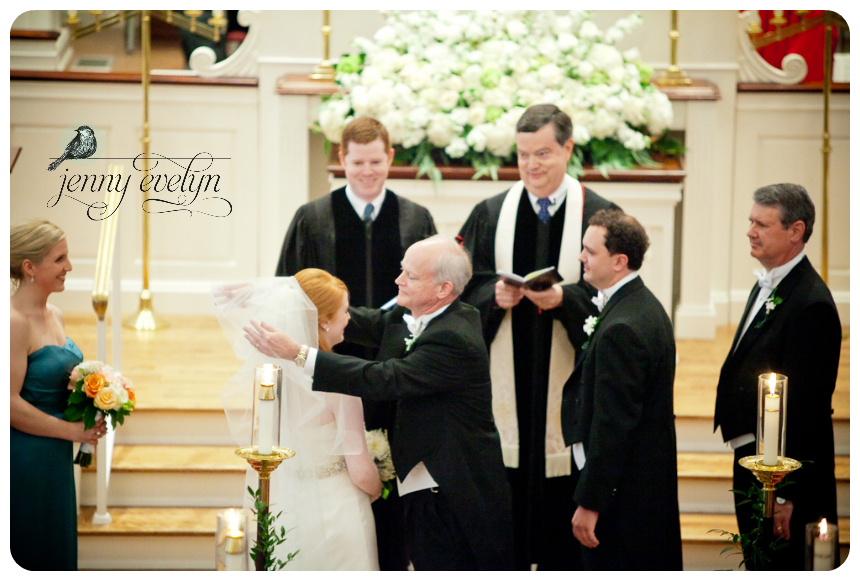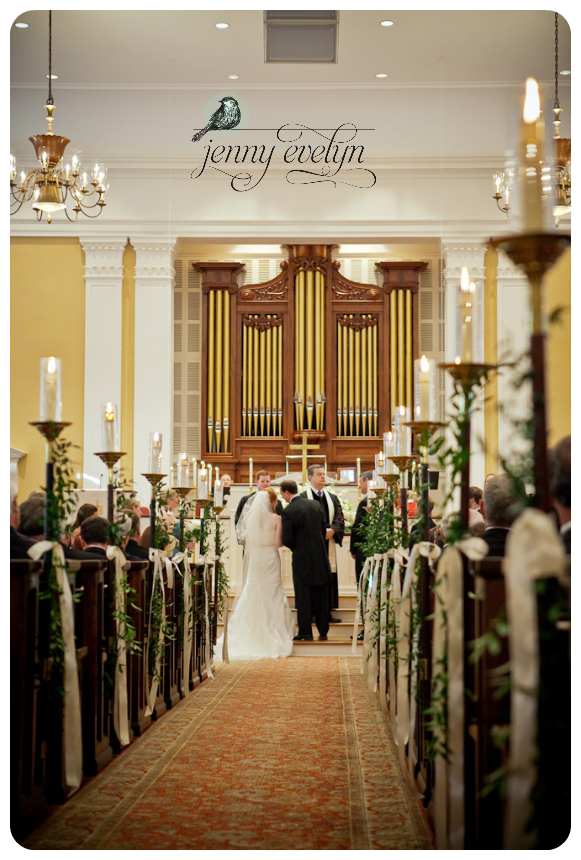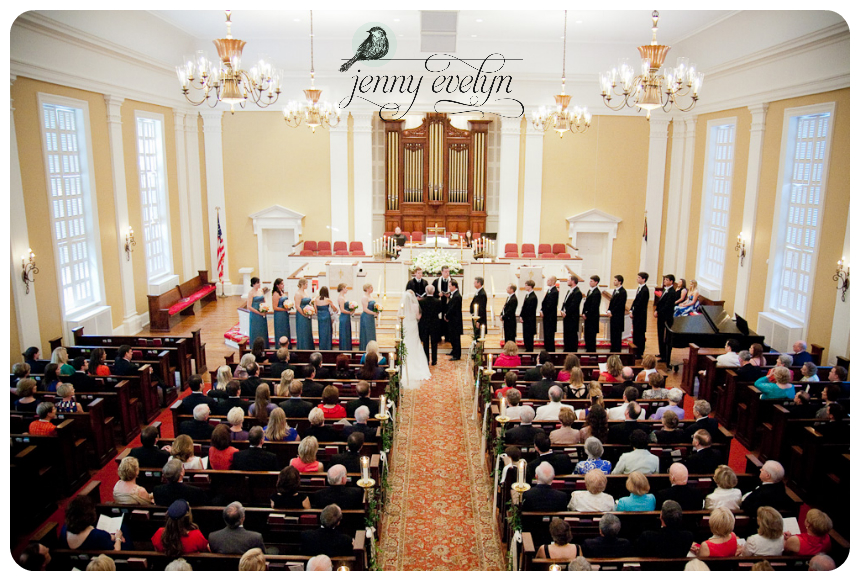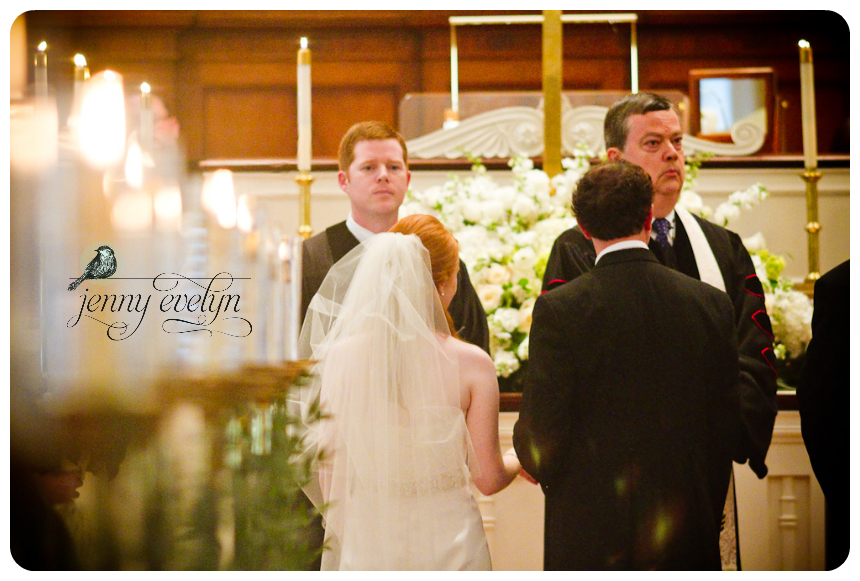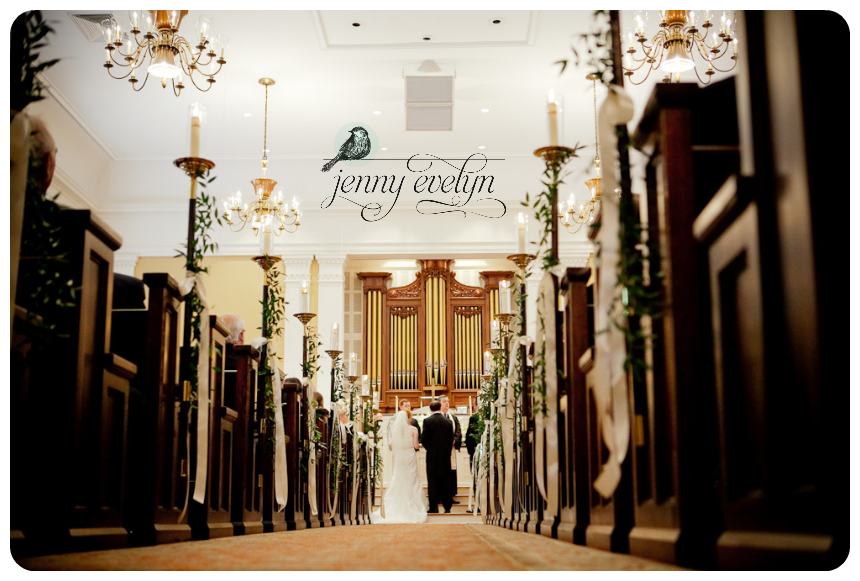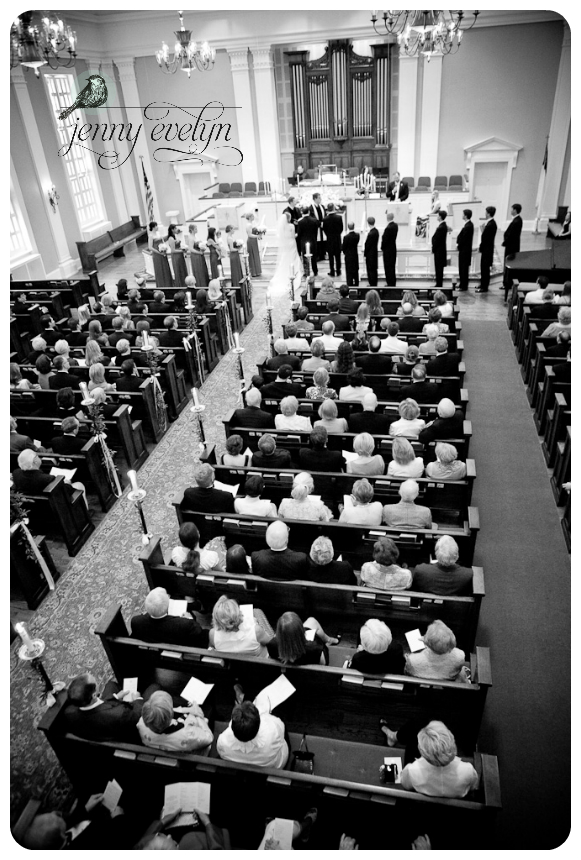 Peeking though the window in the door to the sanctuary.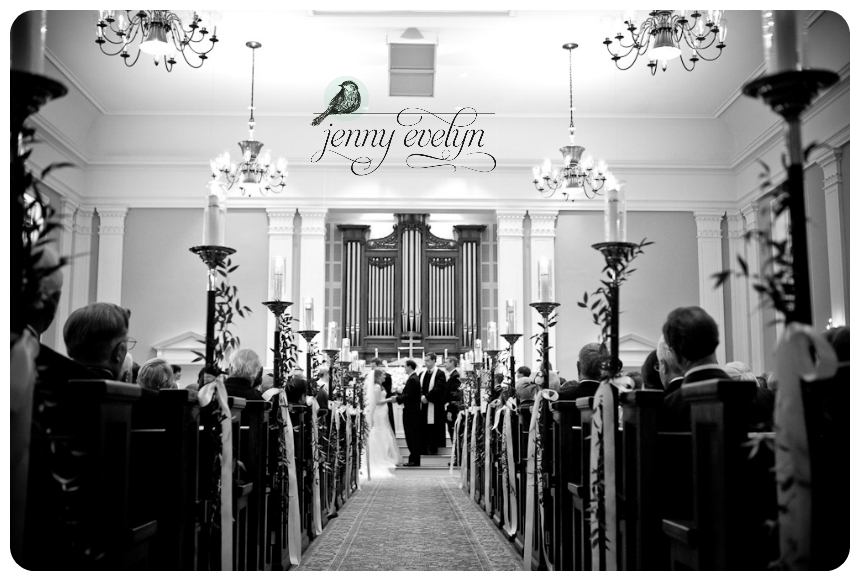 Exchanging rings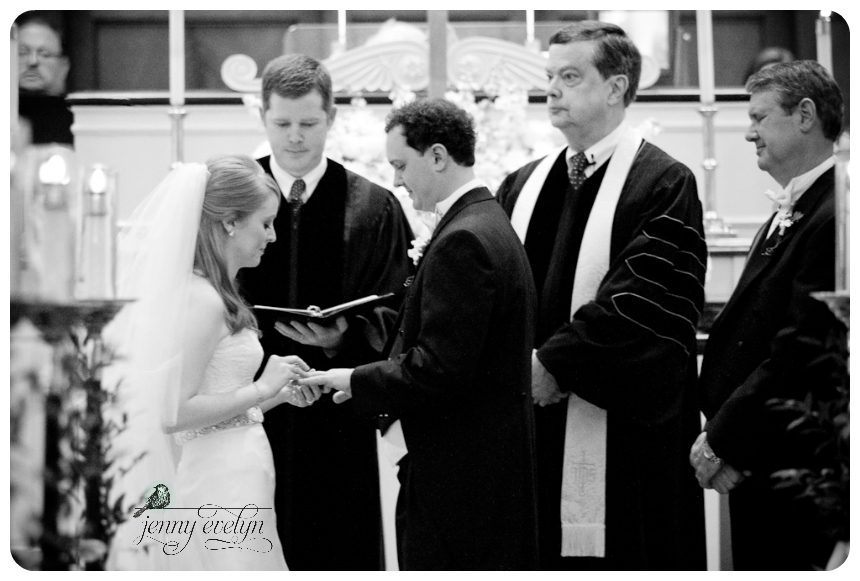 Saying "I do."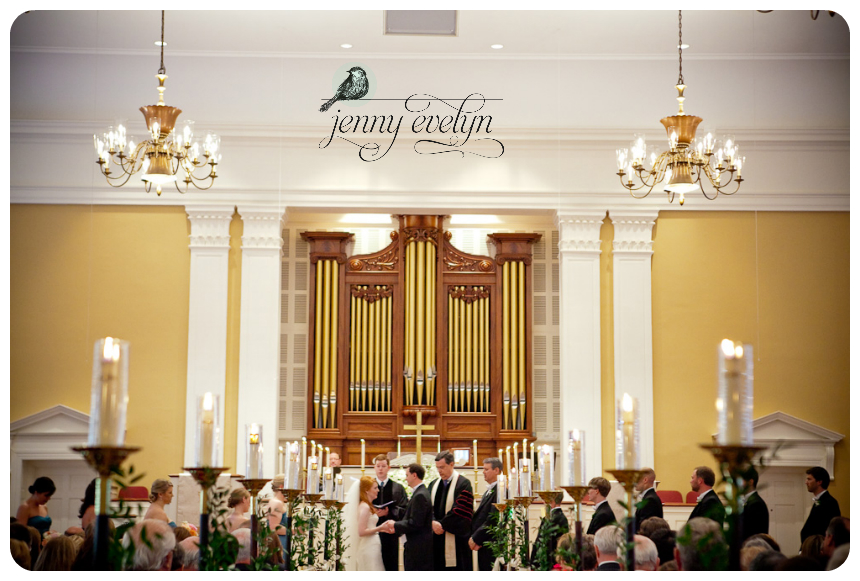 And kissing the bride!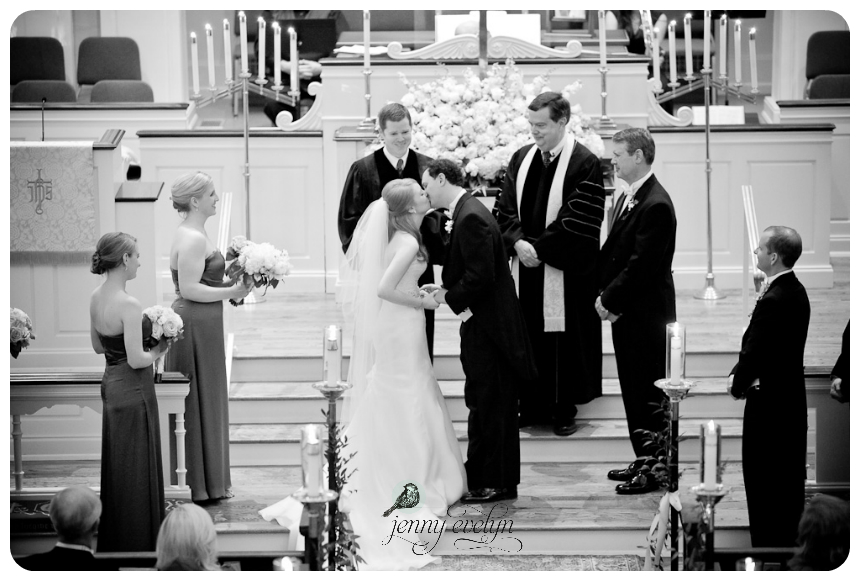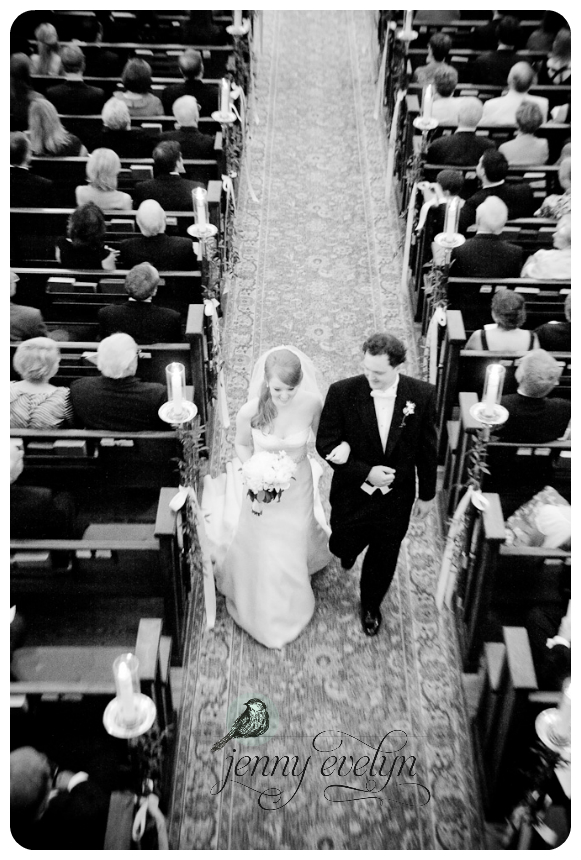 Mr. and Mrs. Bert Maxwell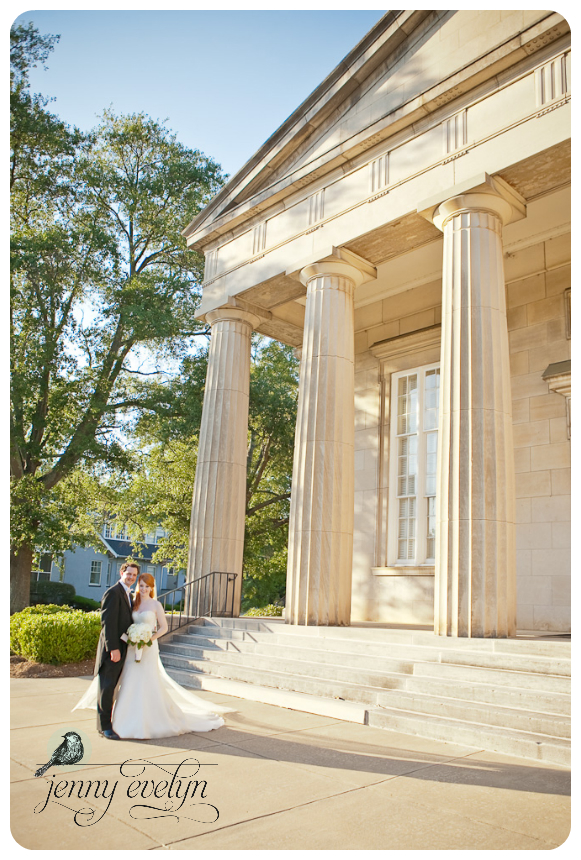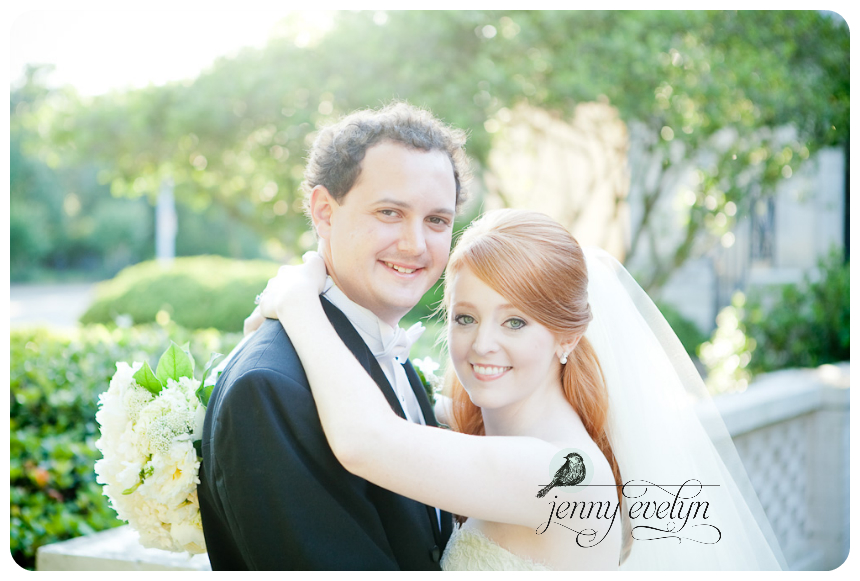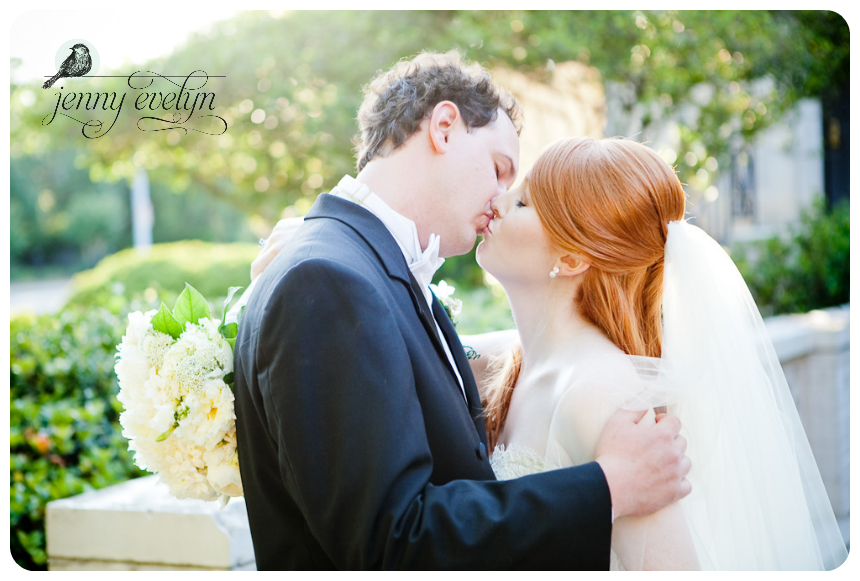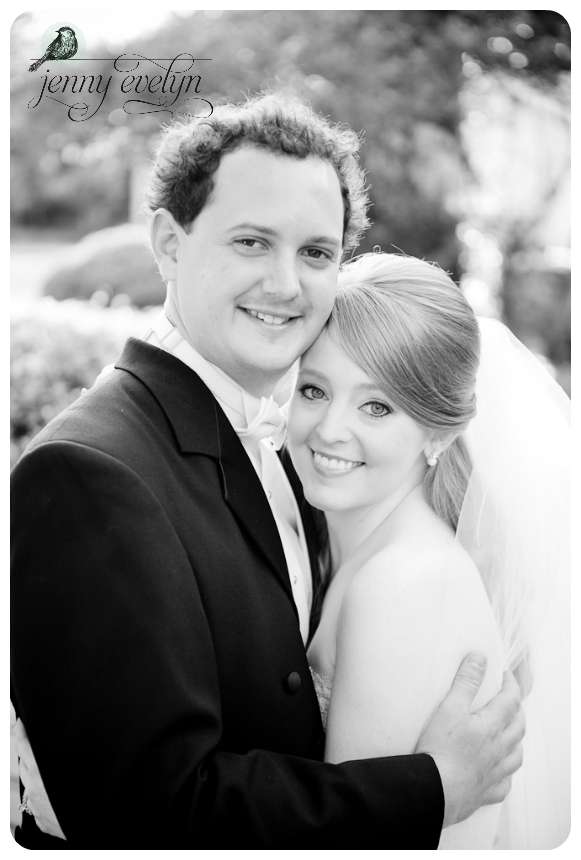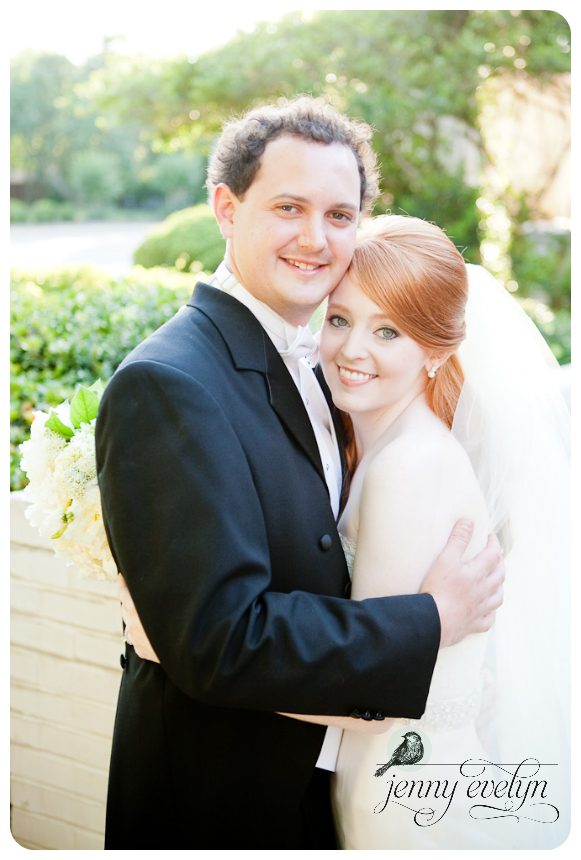 Sweet kisses in this heavenly light!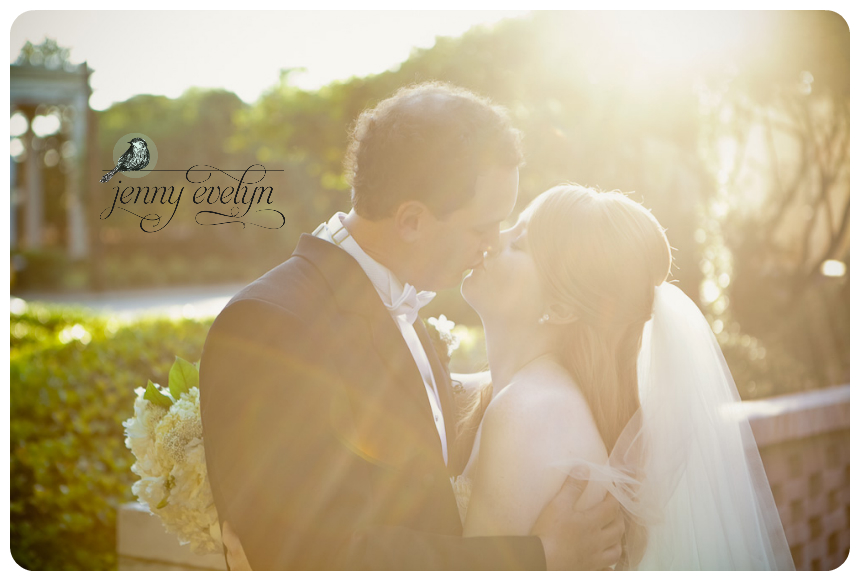 LOVE this!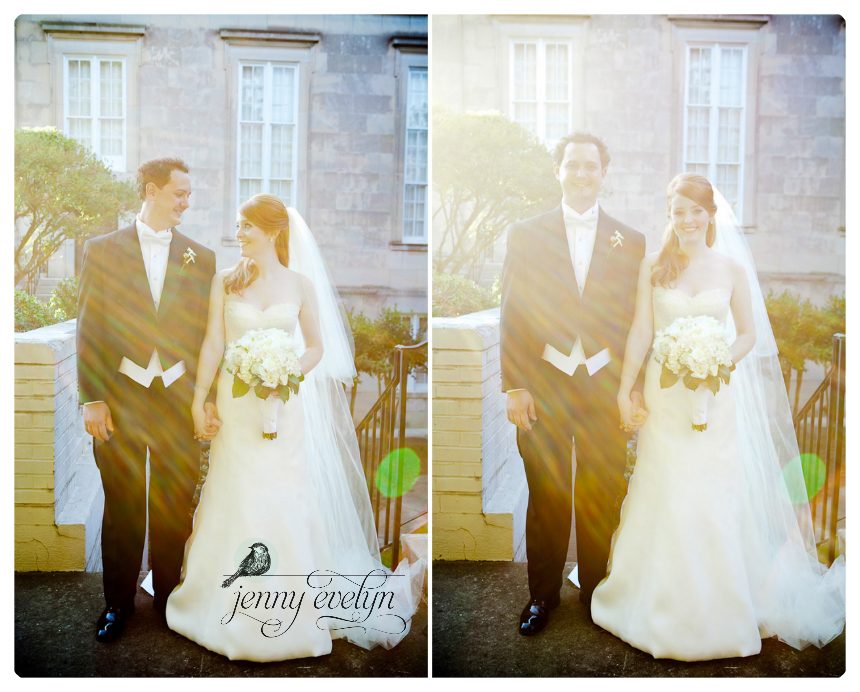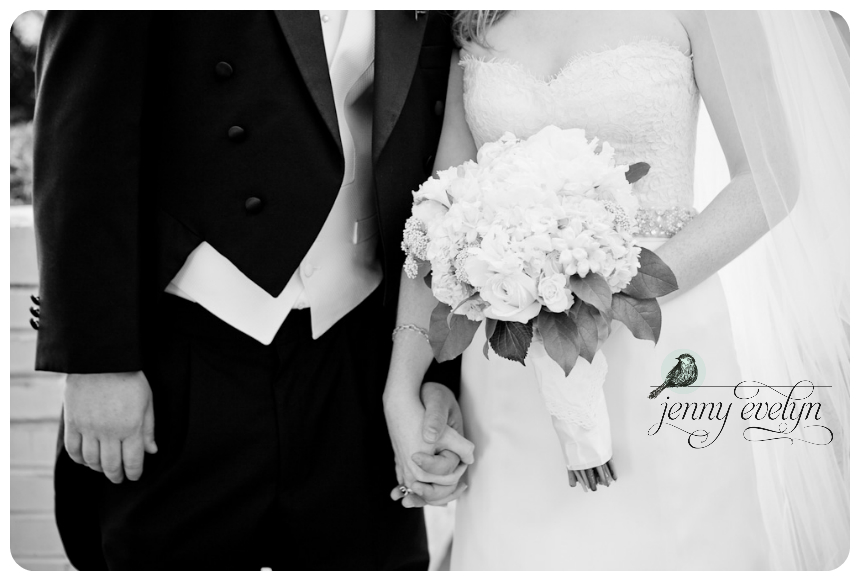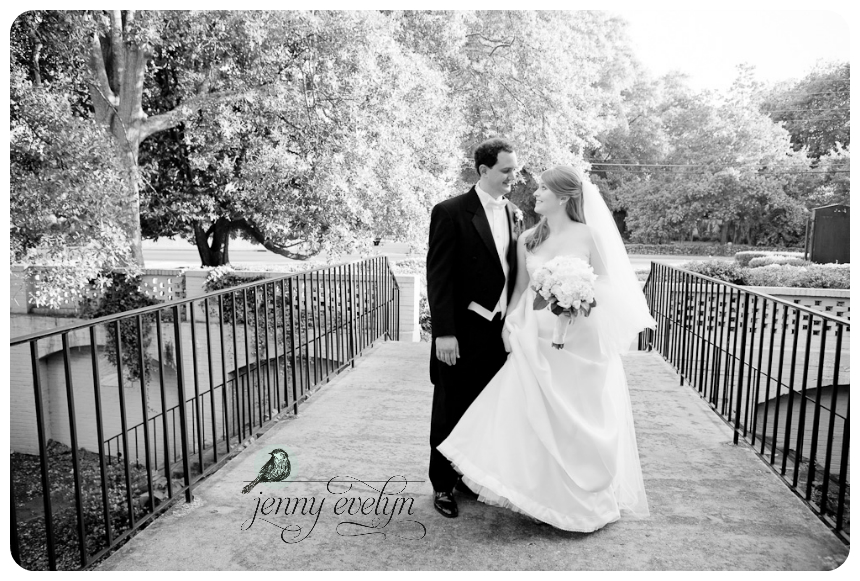 The whole gang!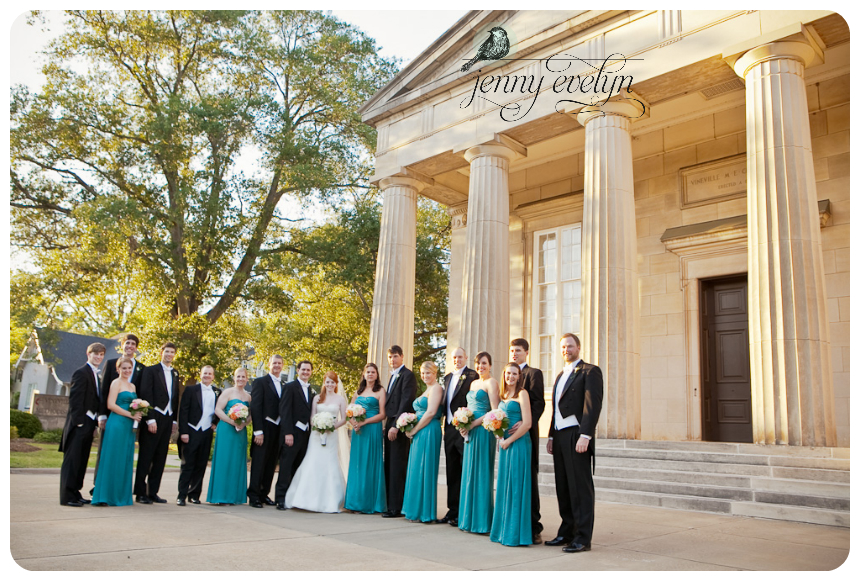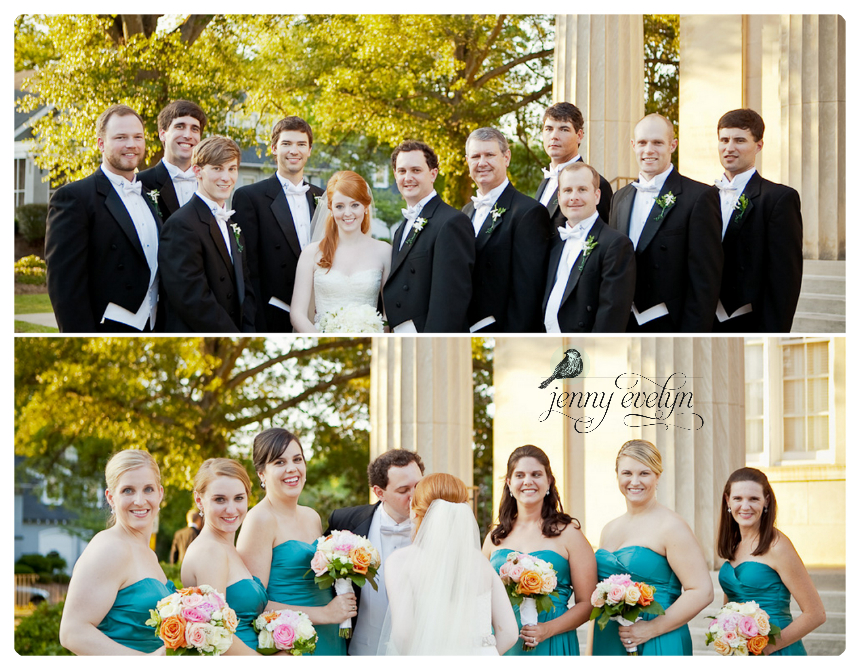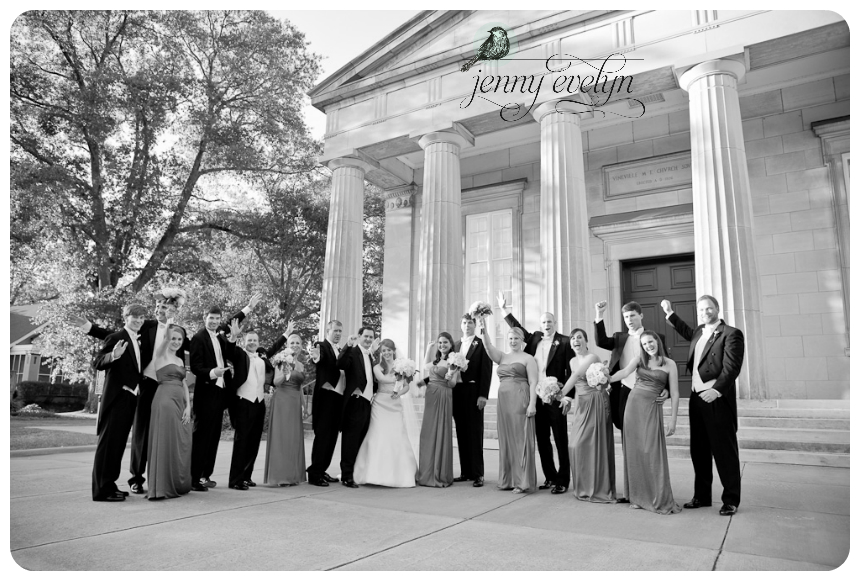 Gorgeous!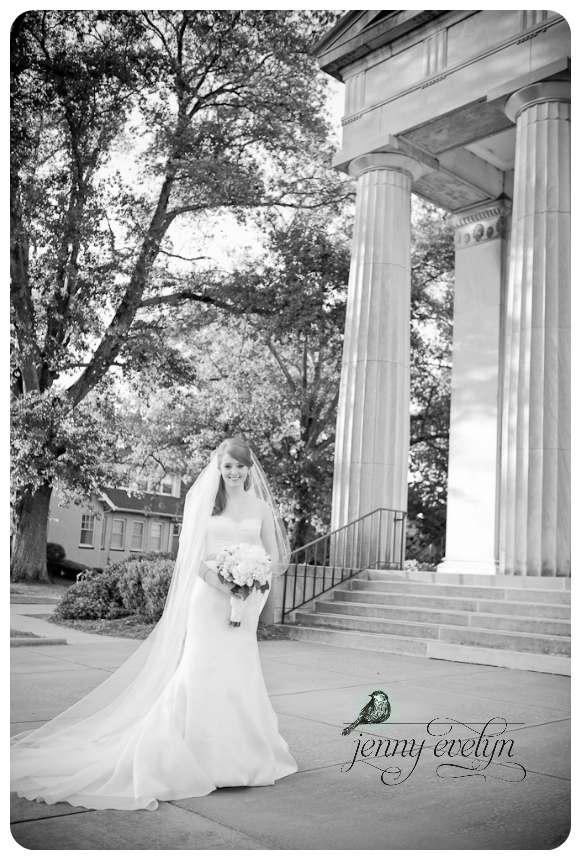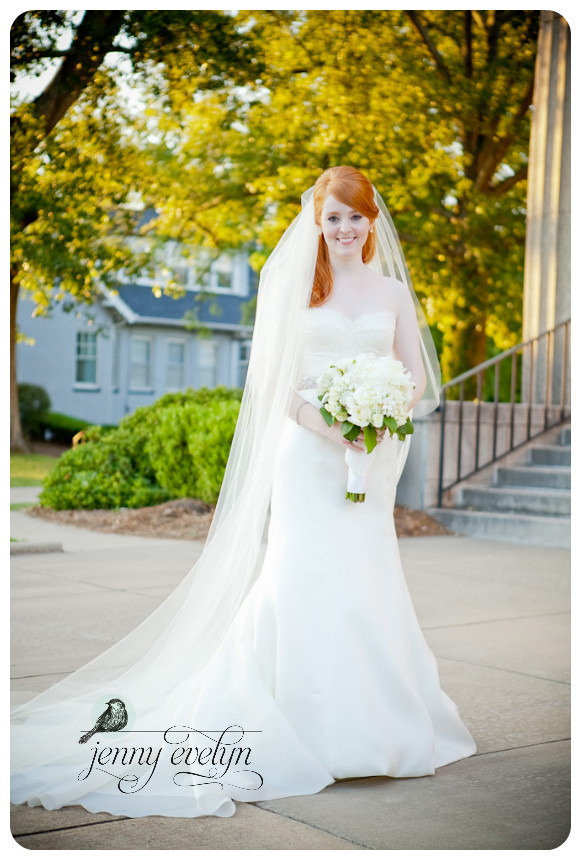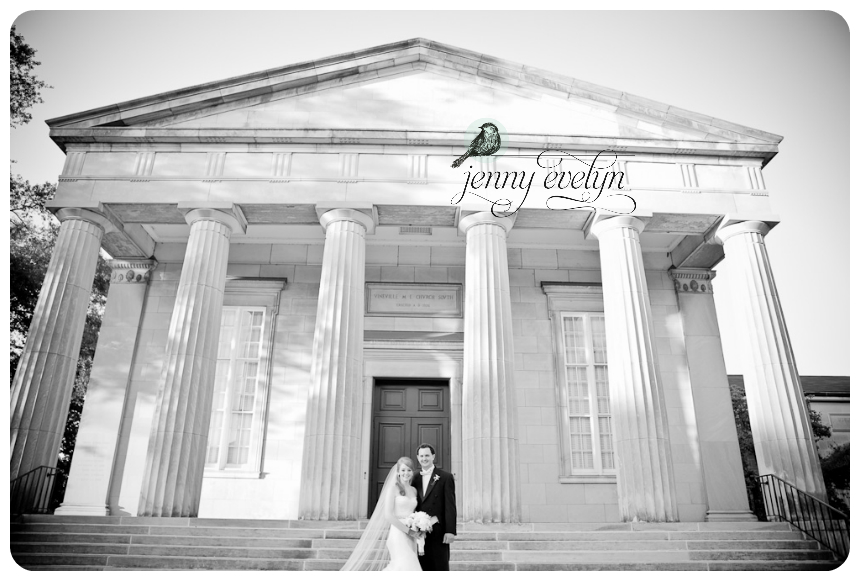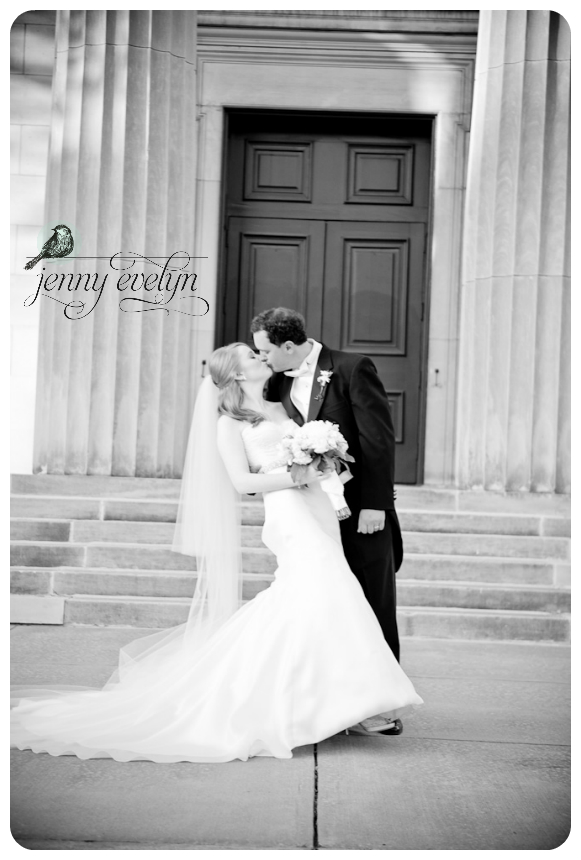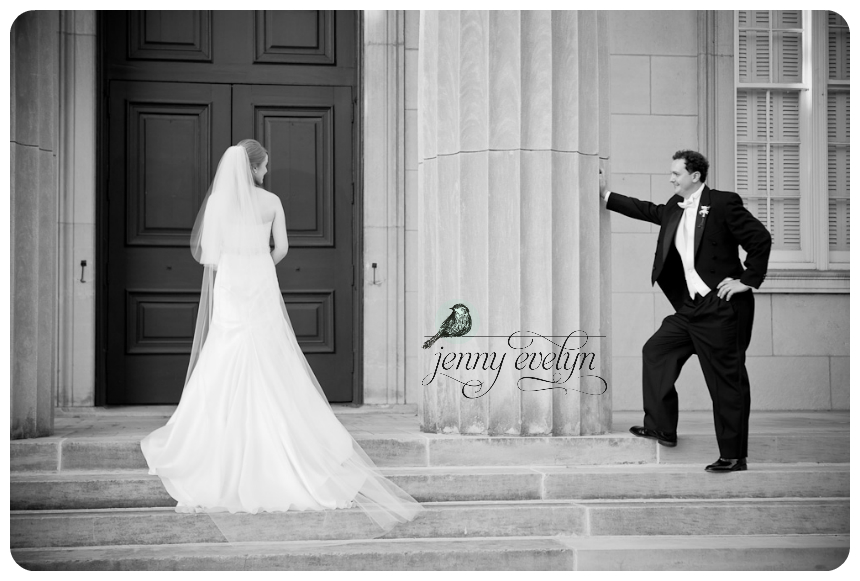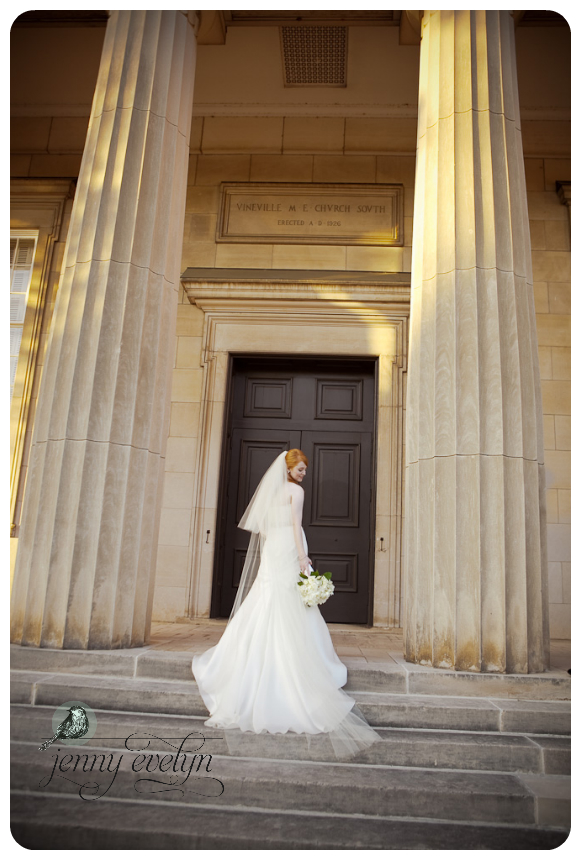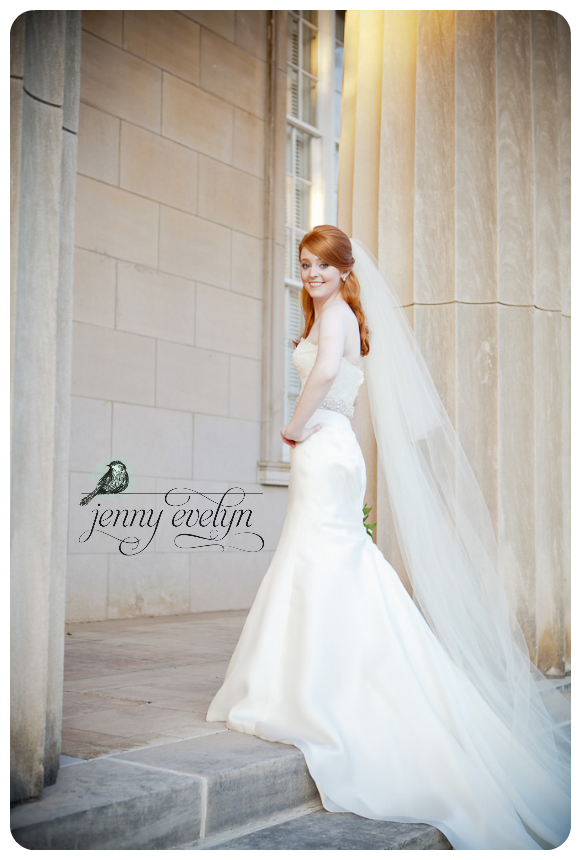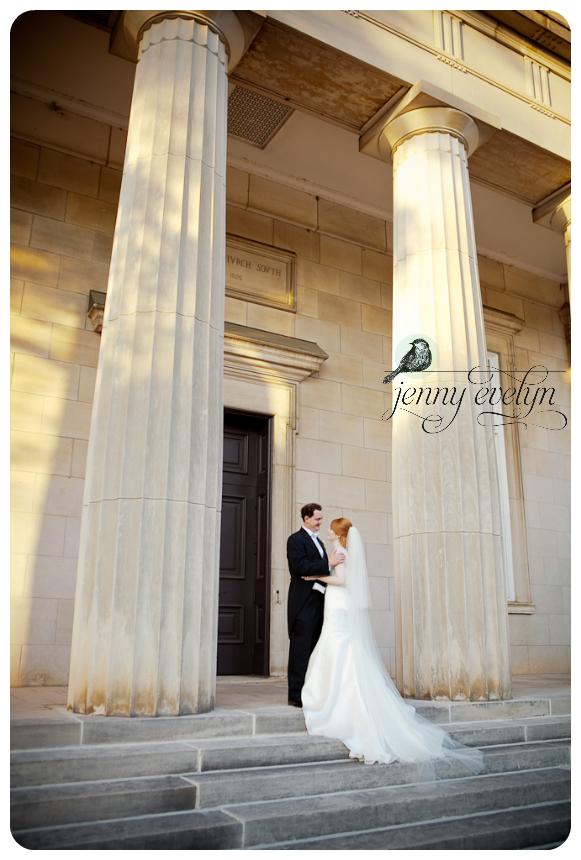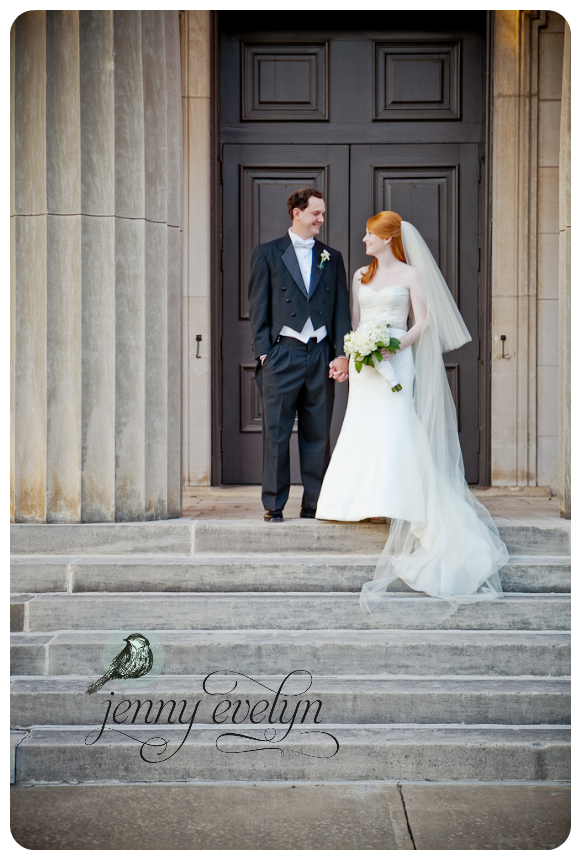 So sweet!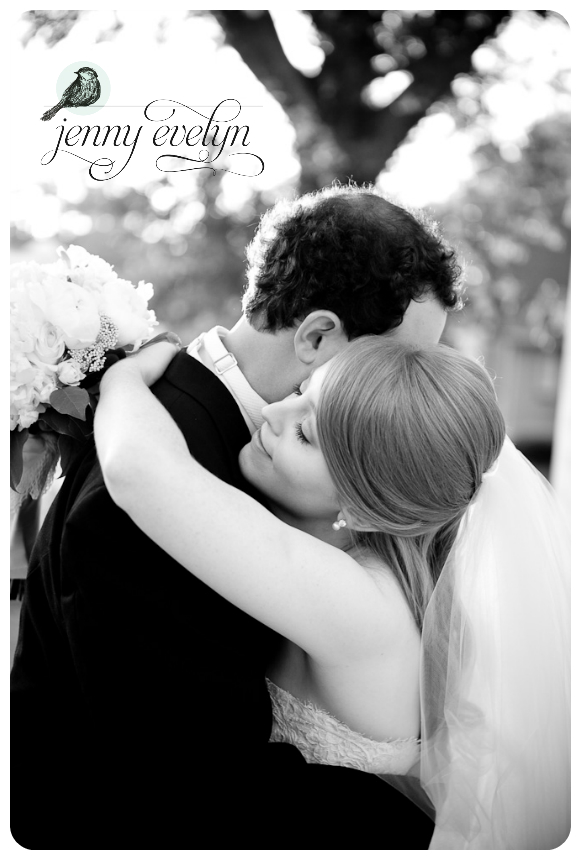 I think this one is so cute!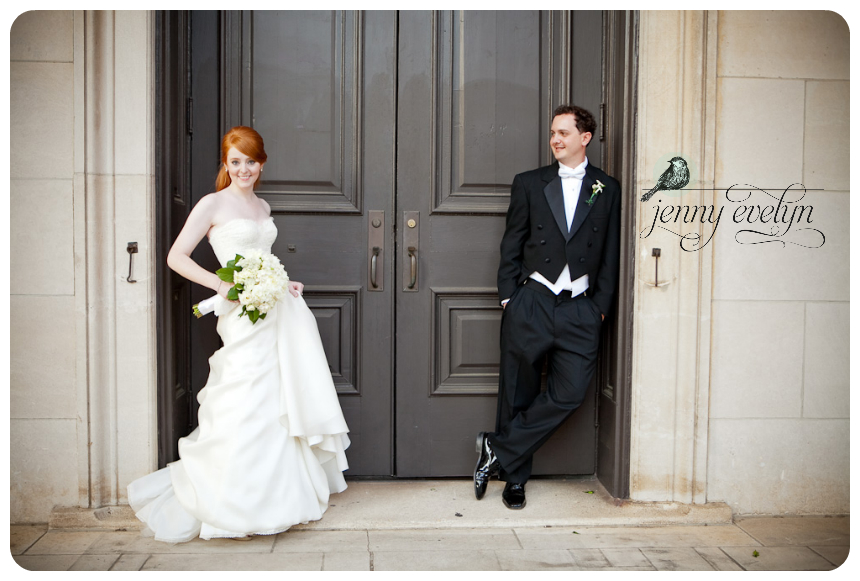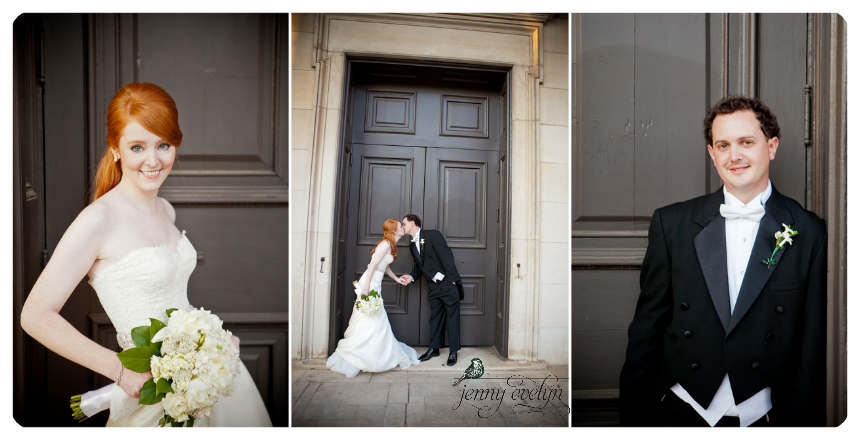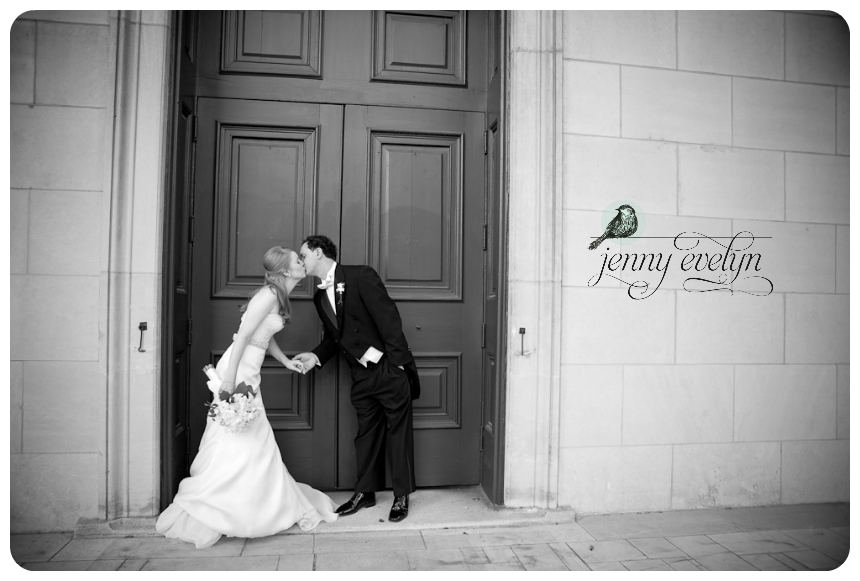 After the ceremony, Bert and Martha and their guests headed over to Idle Hour Country Club to celebrate!  Guests were greeted with delicious pralines by Lee Epting. They were also asked to give their "best piece of advice" to the newlyweds.  What a cute idea!  Also, Martha's dad had the beautiful iron planters at the entrance to the club made specially for this happy occasion.  And don't you love the fab linens by Brilliant Linens?  Such an elegant touch!

First dance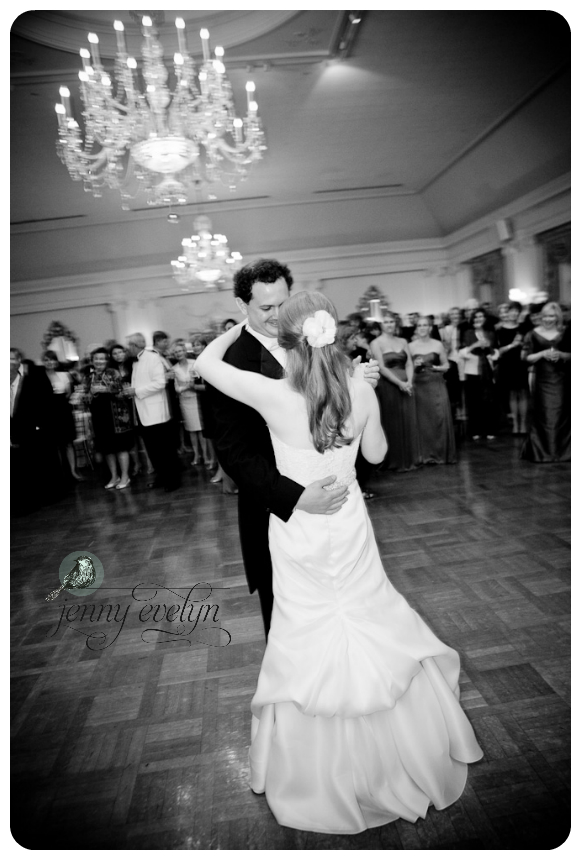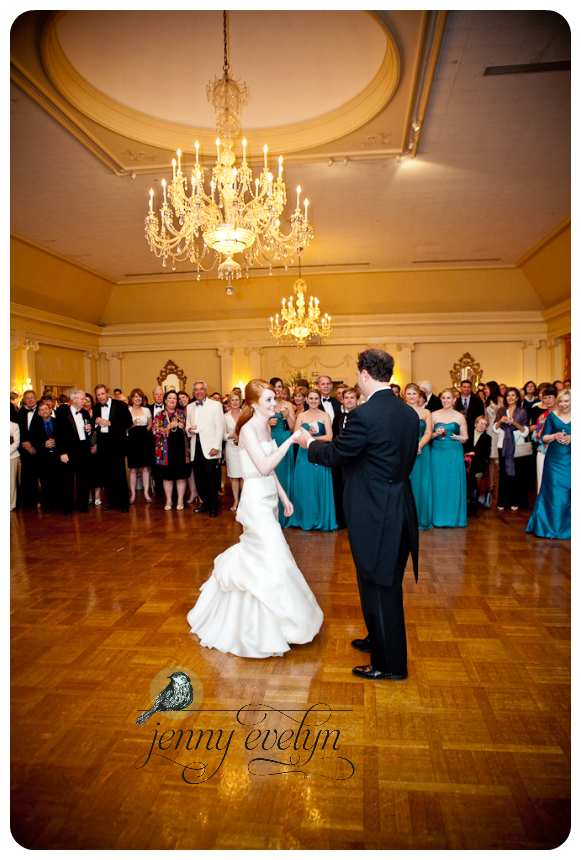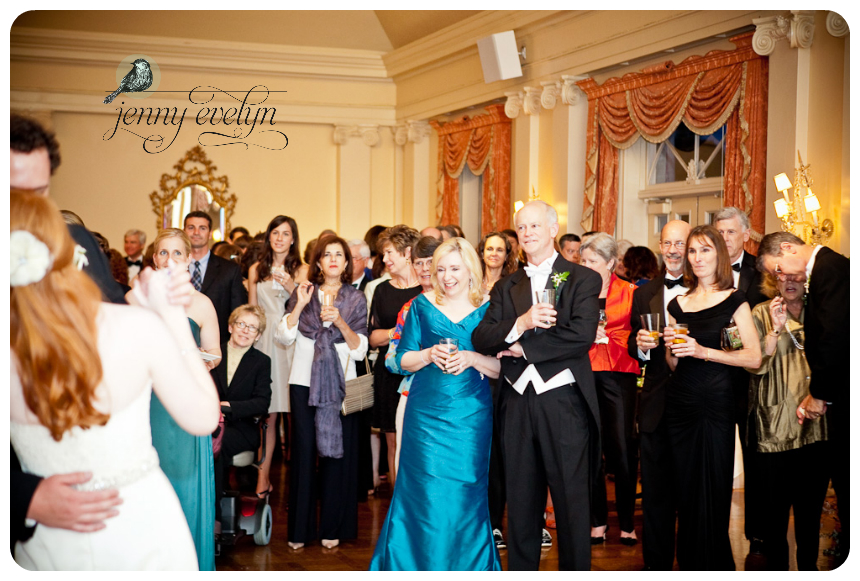 The chef at Idle Hour prepared a delicious meal for the happy couple and their guests.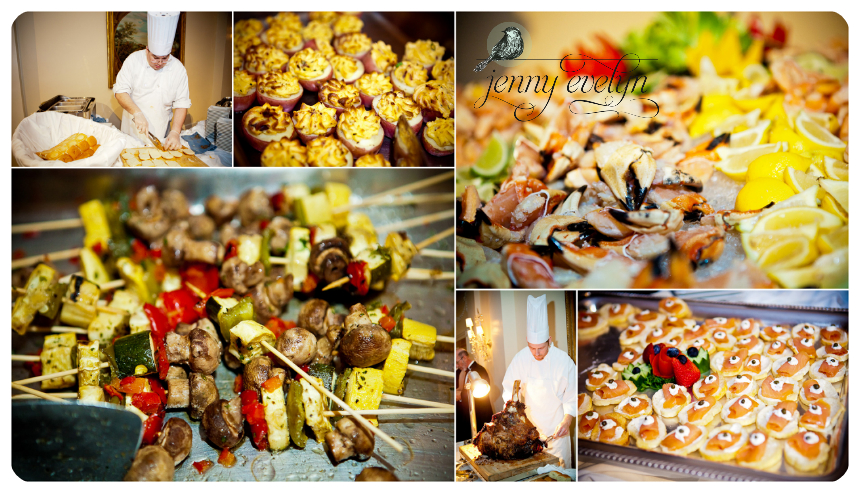 The classically beautiful and delicious cake is by Caroletta's Cakes  and Lee Epting.  According to Martha, Caroletta's cakes are "divine."  I couldn't have said it better myself!  I love how the cake was sitting on a giant strawberry pot with a glass top on it.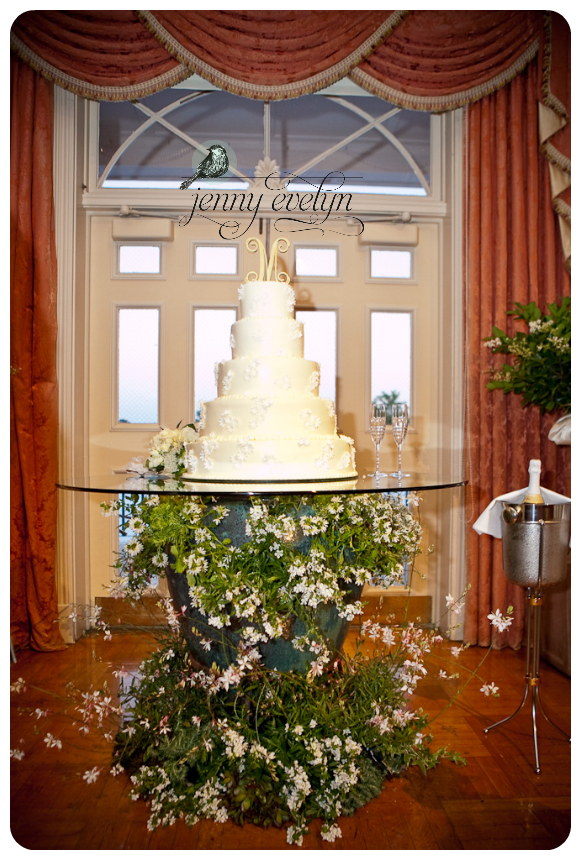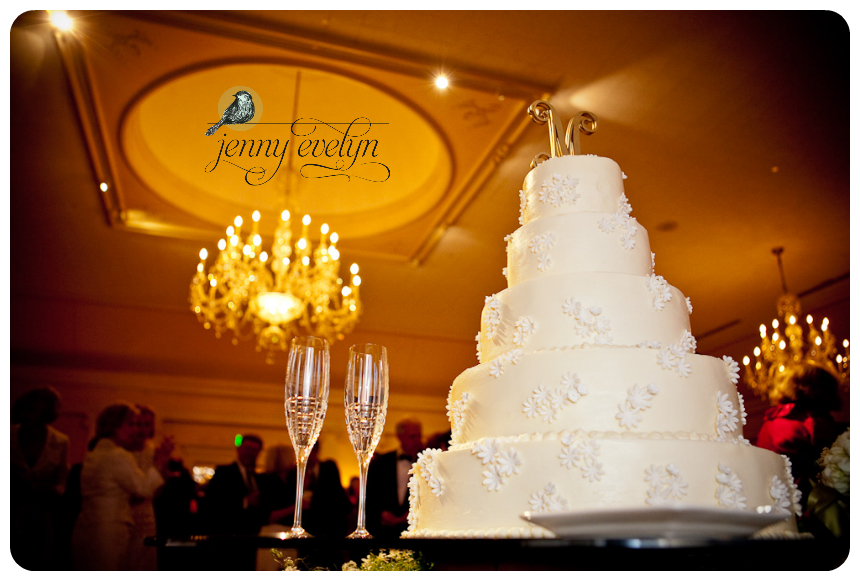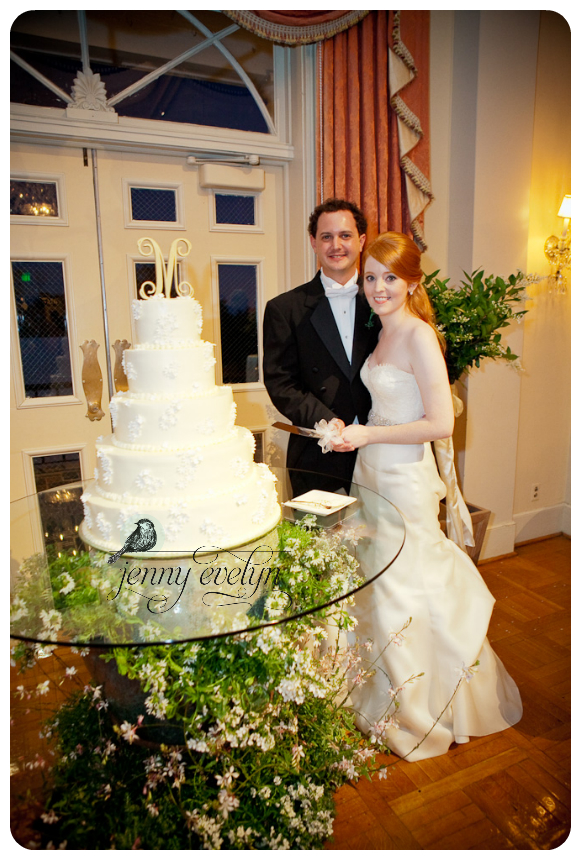 Delish and Divine!!!!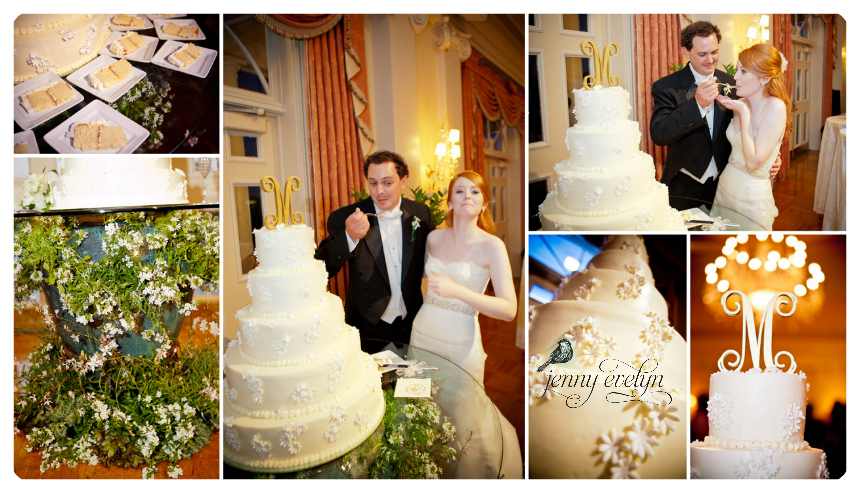 Bert's adorable groom's cake by Amanda's Cakery is a replica of one of the groom's favorite places, a fishing shack in Beaufort, SC.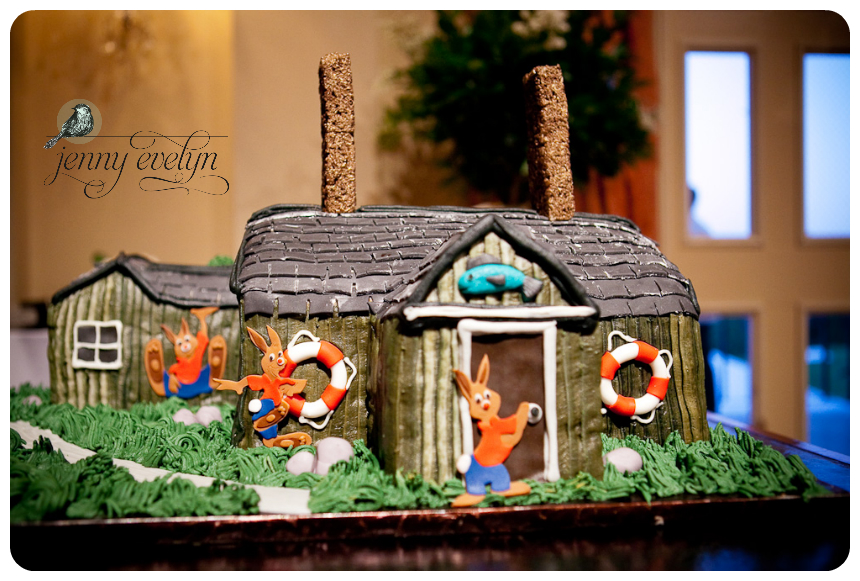 Getting their dance on at the reception to the tunes of ATL Groove Factory.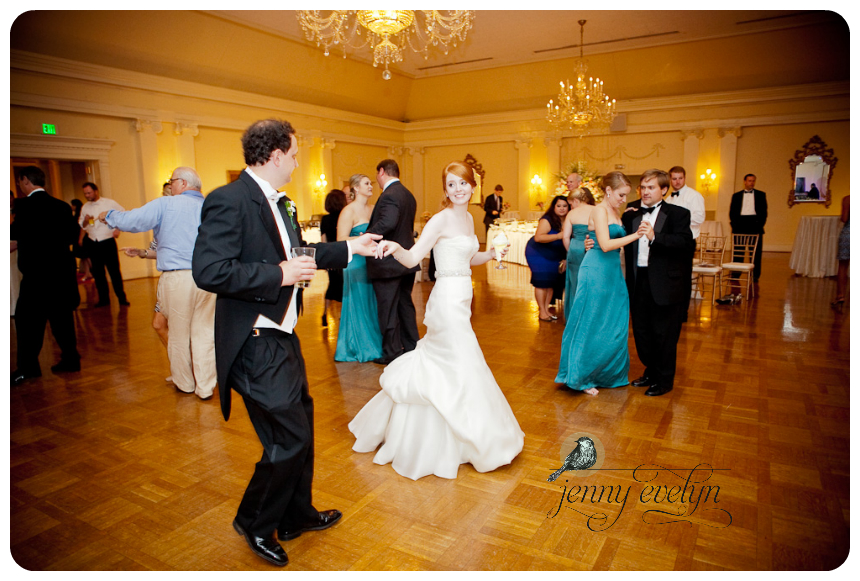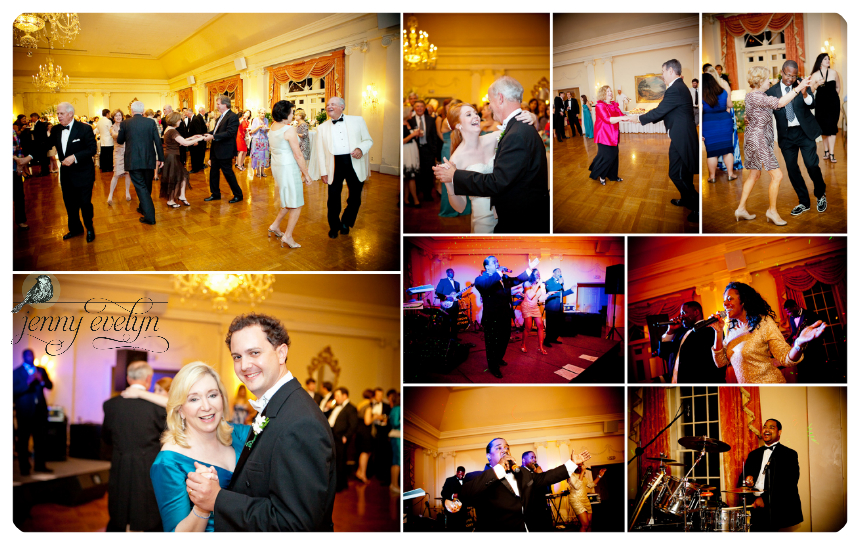 Check out this jump! Amazing!!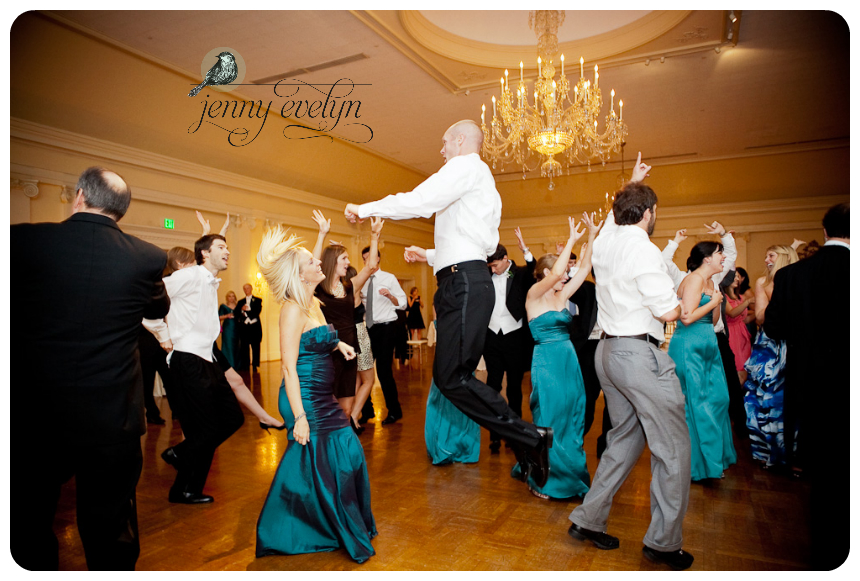 Even a little brother/sister dance off!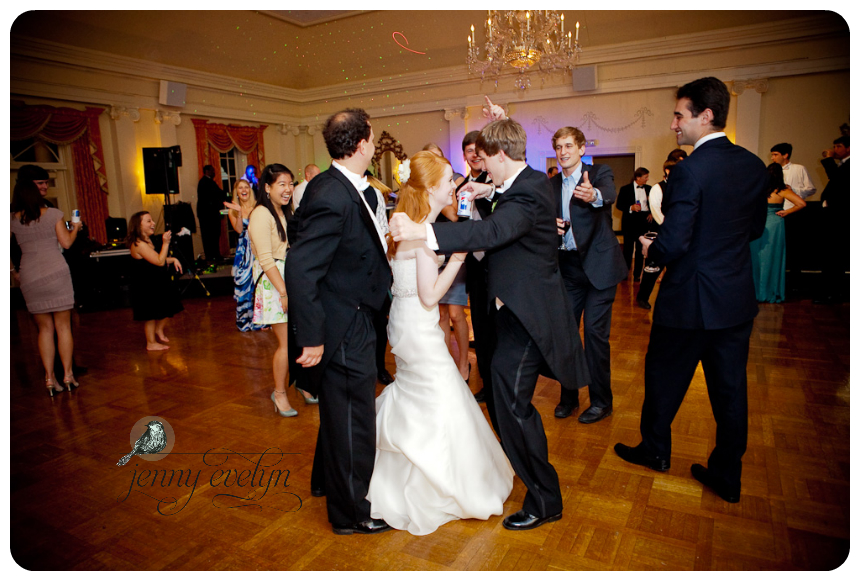 Bert and Martha's friends and family were a lot of fun.  I just had to grab a shot of my neighbors, Leslie and Ivy.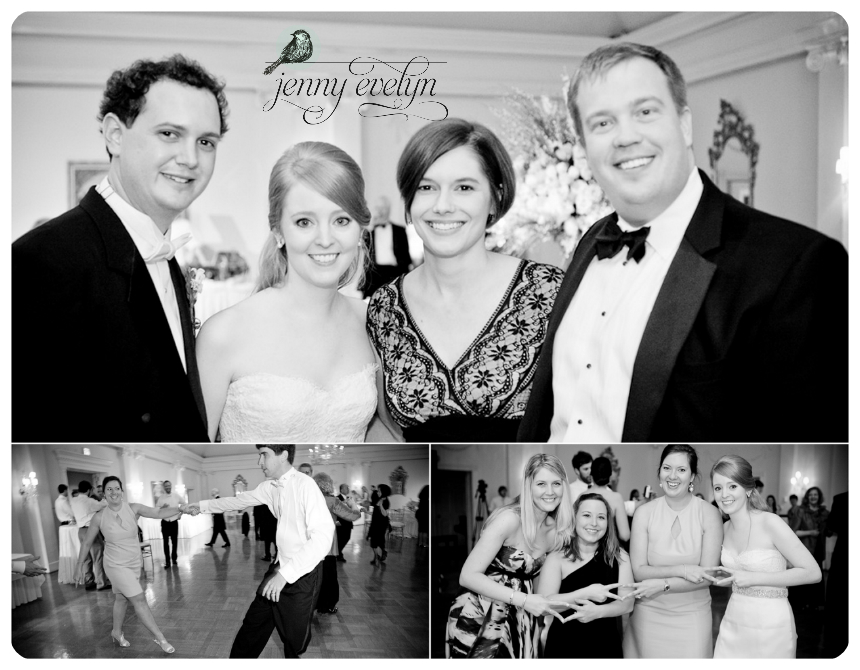 Bert and Martha ran through the petals and off to their honeymoon to Greece! I know that was an amazing trip!!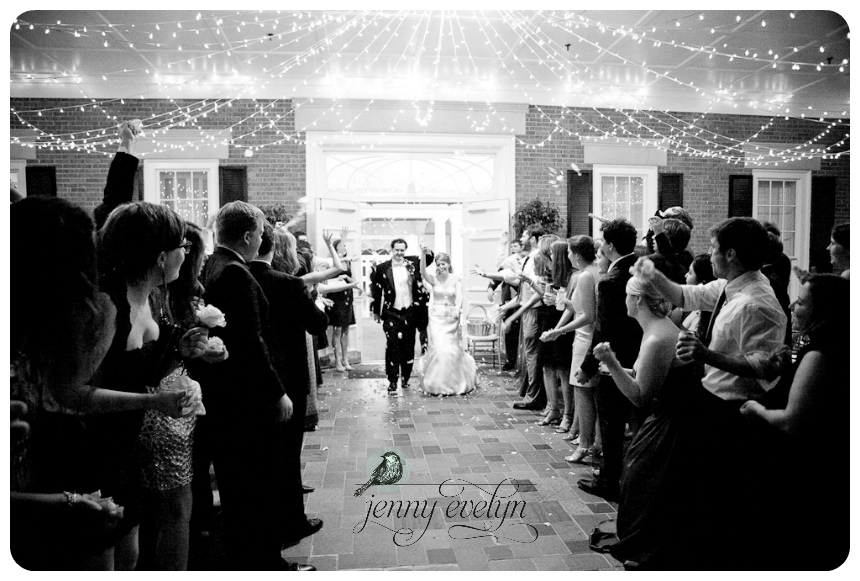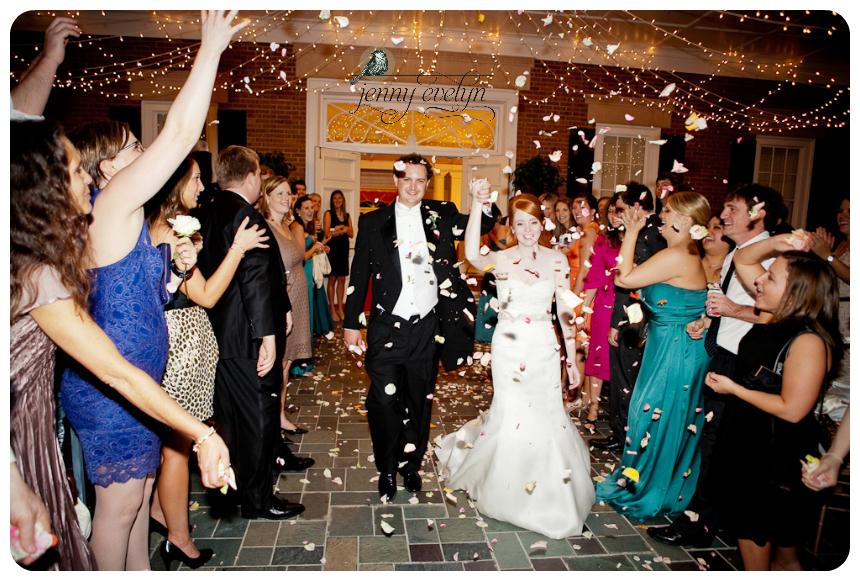 They had to say goodbye to mom and dad before heading off on their honeymoon.  So sweet!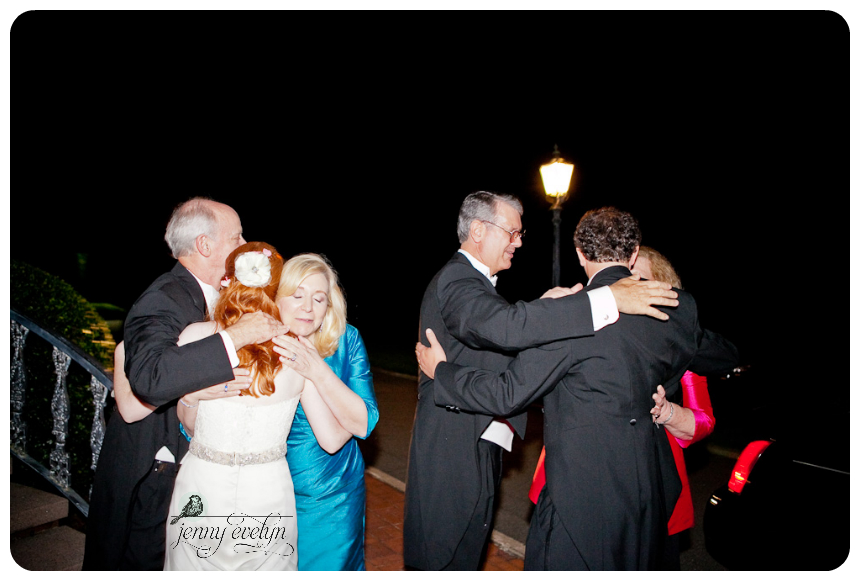 Thanks for sharing your sweet day with me!!  Can't wait for you to see all your pictures!
Jenny Evelyn